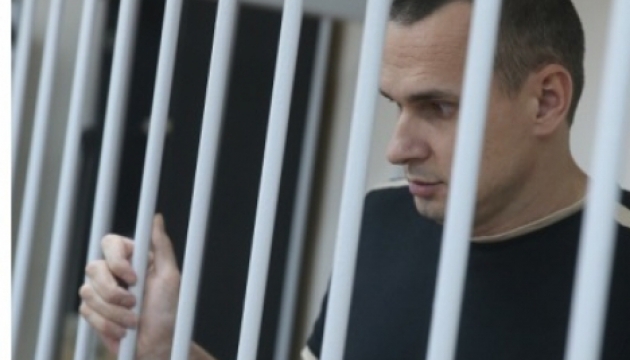 Denisova not allowed to visit Sentsov
Verkhovna Rada Human Rights Commissioner Liudmyla Denisova has not been allowed to enter a penal colony in Labytnangi, Russia, where Ukrainian political prisoner Oleg Sentsov is being held.
This is stated in a video message posted on her Facebook page.
"Today I arrived in the morning to penal colony No. 8, where Oleg Sentsov is being held. I met with the head of the colony and the head of the penitentiary administration. The latter turned down my request, saying that I cannot meet with Oleg Sentsov under any circumstances. He did not explain to me why he turned down my request. When I asked him about Sentsov's current condition, he said he would not provide any information and asked us to leave the territory of the colony. Now we are at the colony's gate. I called the Russian human rights commissioner and expect an answer from her," she said.
Earlier on Friday, it was reported that Ukrainian Human Rights Commissioner Liudmyla Denisova had arrived at Salikhard and headed from there for a meeting with imprisoned Ukrainian filmmaker Oleg Sentsov.
On June 14, representatives of the Russian human rights commissioner proposed that Denisova visit Sentsov after June 22. At the same time, she said she would insist on visiting the film director in the coming days.
Moskalkova said on June 14 that Russian and Ukrainian human rights commissioners were expecting to visit 34 prisoners each in the territories of both countries.
On June 9, on the initiative of the Ukrainian side, a telephone conversation was held between Ukrainian and Russian Presidents Petro Poroshenko and Vladimir Putin, during which an agreement was reached that human rights commissioners of both countries would visit Ukrainian political prisoners held in Russia and Russian citizens held in Ukraine.
On June 13, Denisova left for Russia to visit Ukrainian political prisoners.
According to the Ukrainian Foreign Ministry, at least 24 Ukrainians are political prisoners in Russia and more than 40 in occupied Crimea. This list also includes Ukrinform journalist Roman Sushchenko, who was sentenced to 12 years of imprisonment in a high-security penal colony on fabricated charges of "espionage."
op