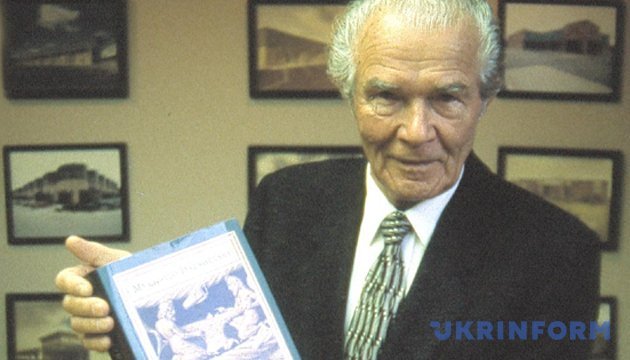 This day in history: Day of remembrance of Peter Jacyk
Day of remembrance of Peter Jacyk (1921-2001), Canadian entrepreneur of Ukrainian descent, patron and philanthropist known for financing Ukrainian studies in the West and in Ukraine.
Another well-known Ukrainian philanthropist Yevhen Chykalenko said that Peter Jacyk was among few Ukrainians who "loved Ukraine not only to the marrow of their bones, but to the marrow of their pockets." Peter Jacyk made his first donation worth $1,000 in early 1960s and the last one shortly before his death. He spent millions of dollars on popularization of the Ukrainian language, philosophy and culture. He was a modest man and unpretentious in everyday life. He did not behave like a millionaire. He had no yachts, planes, mansions, exclusive watches, expensive cars, although he could afford a lot. He believed that sharing and giving (money, kindness, love and goodness) is much more important. He was extremely sincere man.
Peter Jacyk was born in a peasant family in the village of Verkhne Syniovydne in Skole district, Lviv region on October 7, 1921. He was the firstborn. When he was 14, his father died. Peter became the head of the household and took care of mother, two sisters and four brothers. After the war was over, Peter Jacyk found himself in Canada. Jacyk took up many different jobs until he founded a construction company, which he managed effectively.
He always remembered his Ukrainian roots. Peter Jacyk is one of the funders of the Ukrainian Research Institute at Harvard University (USA), the Encyclopedia of Ukraine, the Peter Jacyk Center for Ukrainian Historical Research at the University of Alberta (Canada), Petro Jacyk Education Foundation (with a fund of $4 million), the Platform Ukraine at the School of Slavonic & East European Studies at the University of London, the document center at the John P. Robarts library at the University of Toronto, the Jacyk Foundation at the Canadian Institute of Ukrainian Studies (CIUS) in Edmonton. A $750,000 donation from Jacyk made it possible to open a special Ukrainian department at the Harriman Institute at Columbia University.
A lot of scientific monographs on the history of Ukraine (particularly, the translation of the History of Ukraine-Rus by Mykhailo Hrushevsky into English), economics, political science, medicine and ethnography were published at the cost of the philanthropist. The amount of his donations to Ukrainian institutions in the West exceeds $16 million. Students from Ukraine should also thank Peter Jacyk for the opportunity to study in Europe, the USA and Canada. In May 2001, the international competition of Ukrainian language experts was founded. About 5 million people from more than 20 world countries have already taken part in this competition. Petro Jacyk dreamed of strong and prosperous Ukraine with wealthy and happy people. Perhaps, the dream of the great Ukrainian philanthropist will one day come true.
ol