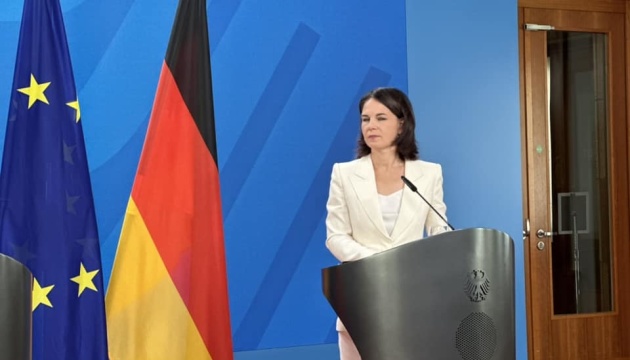 Putin rejoices too soon at international turbulence - Baerbock
Germany will not just continue to support to Ukraine, it will expand such assistance during winter months and throughout next year.
This was stated by the German Minister of Foreign Affairs, Annalena Baerbock, who spoke at the doorstep of the EU Foreign Council in Brussels on November 13, reports Ukrinform.
"Putin rejoices too soon because of the dramatic developments around the world because we will not just continue our support to Ukraine, we will expand and increase it, specifically on the part of Germany. Not only in terms of defense shield in the coming weeks and months, when it is clear that the Russian president will once again treacherously exploit the needs of the people during winter cold, our support will be massively expanded next year," Baerbock said.
The head of German diplomacy also touched on the topic of EU enlargement, noting that it is in the geopolitical interests of the European Union itself. For security and peace in Europe, there should be no "gray zones", she emphasized.
Speaking about the Armenian-Azerbaijani conflict, the head of the German Foreign Ministry called the EU's support for the processes that have recently emerged between the two countries important, "since others are ready to fill the gaps if Europe is not present there." She called on regional actors to use the European platform to find a peaceful settlement because it is the EU that is interested in real peace, security, and trust in the region.
According to her, the central topic of today's meeting will be the situation surrounding the Palestinian-Israeli conflict. Baerbock reiterated the position that a permanent settlement is possible only under the condition of a "two-state" policy
Baerbock arrived in the "EU capital" from the Middle East, having completed her third trip to the region since the Hamas attack on Israel on October 7.