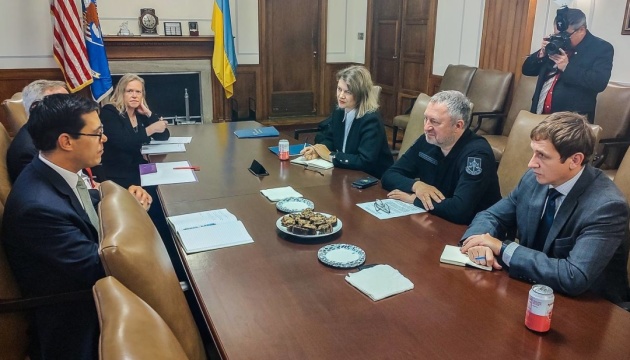 On U.S. visit, Ukraine's Prosecutor General discusses ways to implement Peace Formula
Prosecutor General Andriy Kostin of Ukraine discussed ways to implement the Peace Formula, put forward by President Volodymyr Zelensky, during a visit to the United States.
That's according to the PGO press service, Ukrinform reports.
"Andriy Kostin together with Congressman Michael McCall and Ambassador of Ukraine to the USA Oksana Markarova discussed ways to implement the key component of the Peace Formula - its Point 7, Restoring Justice. The conversation was moderated by Jen Griffin with FOX News," the statement reads.
As Kostin noted following the discussion at the Embassy of Ukraine in the USA, "Ukraine's PeaceFormula, presented by President Volodymyr Zelensky at the UNGA, offers a holistic blueprint for ending Russia's aggression and addressing its consequences."
The prosecutor general said he was deeply grateful to the United States' sincerely thanked the United States' "unwavering, bipartisan support for Ukraine's pursuit of justice and accountability."
These efforts are "essential for restoring and maintaining global peace and security," he added.
As reported by Ukrinform, President Volodymyr Zelensky spoke about the implementation mechanism for the Ukrainian Peace Formula during the meeting of the UN Security Council in New York.