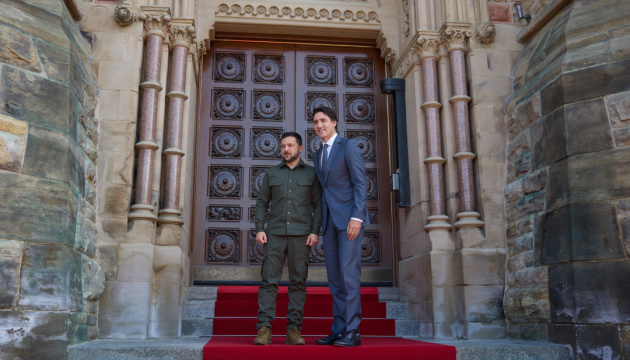 Trudeau, Zelensky meet with Ukrainian community in Toronto
Prime Minister of Canada Justin Trudeau and President of Ukraine Volodymyr Zelensky met with the Ukrainian community in Toronto.
As an Ukrinform correspondent reports, several hundred people attended the event.
"I am very proud that Ukraine inspires, that Ukrainians inspire as do Ukrainian Canadians. Thank you all for your activity, you enable others to feel the Ukrainian vibes," Zelensky said.
He also joked that he was finally able to spend time with his wife during the trip: "I'm glad to be here with my wife, the First Lady. Three days together, for the first time since the start of the full-scale war. Thank you, Justin."
Prime Minister Trudeau noted that he was very happy to see such a large number of people willing to support Ukraine. "The support of Canadians comes from all levels of government, citizen associations, the diaspora – all of Canada stands in solidarity with Ukraine," he noted.
The meeting was attended by Canada's Deputy Prime Minister Chrystia Freeland, who addressed the audience, as well as Mayor of Toronto Olivia Chow, Premier of Ontario Doug Ford, and other famous figures.
As reported, President of Ukraine Volodymyr Zelensky held several meetings with the country's leadership and entrepreneurs and addressed the Parliament during his visit to Canada.
Photo: @ZelenskyyUa