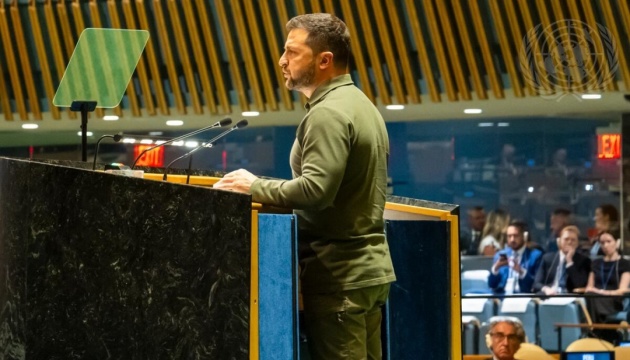 Zelensky to Canadian Parliament: Russia committing genocide in Ukraine
President of Ukraine, Volodymyr Zelensky, clearly emphasized that Russia's actions should be recognized as genocide against the Ukrainian people.
He said this on Friday during a speech in the Parliament of Canada, Ukrinform's own correspondent reports.
"It is genocide – what Russian occupiers are doing to Ukraine. And when we want to win, when we call-on the world to support us, it is not just about an ordinary conflict. It is about saving lives of millions of people," the president of Ukraine emphasized.
"Ordinary women and men, children… Our families. Whole communities. Entire cities… Russia's destruction of Mariupol or Volnovakha or Bakhmut or any other city or village in Ukraine must not go unpunished. Life and justice must prevail – everywhere in Ukraine, for all Ukrainians," Zelensky stressed.
He recalled that in 1983, world's first monument commemorating the victims of the Holodomor was erected, to remember the genocide against the Ukrainian people, ordered and perpetrated by Moscow.
"But there is something that has not changed either in 40 years since the monument in Edmonton was built or in 90 years since the Holodomor. Moscow now as always is bent on controlling Ukraine and makes use of all available means to do that including genocide," Zelensky stressed.
Russian aggression must end with Ukraine's victory, underlined the president, "so that Russia will never bring back genocide to Ukraine and will never even try to do so."
"Moscow must lose – once and for all. And it will lose!" Zelensky concluded.
As Ukrinform reported earlier, President Volodymyr Zelensky held talks with Canadian Prime Minister Justin Trudeau during an unannounced visit to Canada on September 22.