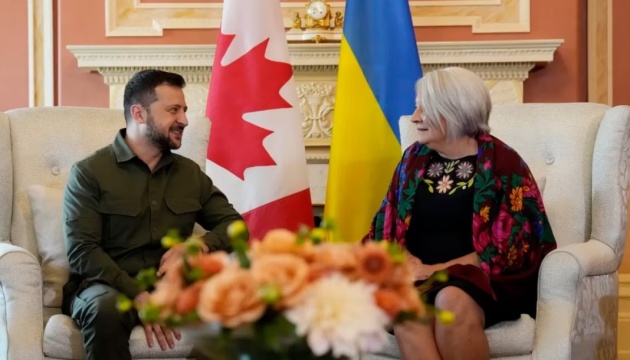 Zelensky meets with Governor General of Canada
President of Ukraine Volodymyr Zelensky and First Lady Olena Zelenska met with Governor General of Canada Mary Simon at her residence in Ottawa.
As an Ukrinform correspondent reports, the meeting lasted about half an hour.
The Governor General became the first Canadian high-ranking official whom Zelensky met during his visit. From her residence, he went directly to Prime Minister of Canada Justin Trudeau, with whom he will have a bilateral meeting followed by negotiations in an extended format.
In addition, Volodymyr Zelensky's address to the Parliament and meeting with entrepreneurs and the Ukrainian community are also scheduled in the program of the visit.
President Volodymyr Zelensky arrived on an unannounced visit to Canada after a visit to the USA.
Photo credit: THE CANADIAN PRESS