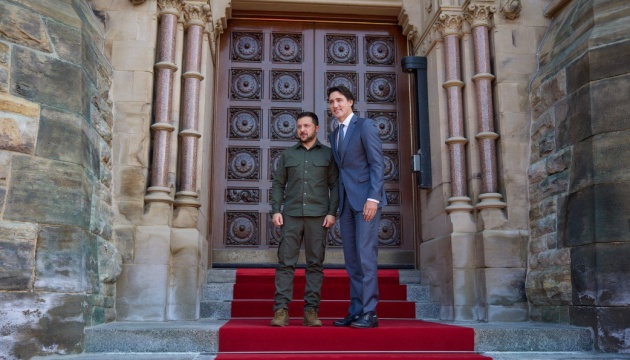 Zelensky–Trudeau meeting starts in Ottawa
The meeting between President of Ukraine Volodymyr Zelensky and Prime Minister of Canada Justin Trudeau has begun in Ottawa. The parties will hold face-to-face negotiations in an extended format.
"Thank you for your support since the early days of full-scale war – the phone calls and the real steps taken by your government and all Canadians. I thank your beautiful country! I want to thank you for accepting Ukrainians in this difficult period, helping us on the battlefield by providing security, financial, humanitarian aid. Thank you for being with us, for standing for our victory," Zelensky said, the President's Office reports.
Zelensky and Trudeau are expected to discuss Ukraine's defense needs, further financial and humanitarian support for our country, as well as expanding opportunities for economic and investment cooperation.
The President of Ukraine and the Prime Minister of Canada will take part in the signing of bilateral documents and will meet with media representatives.
Photo: President's Office