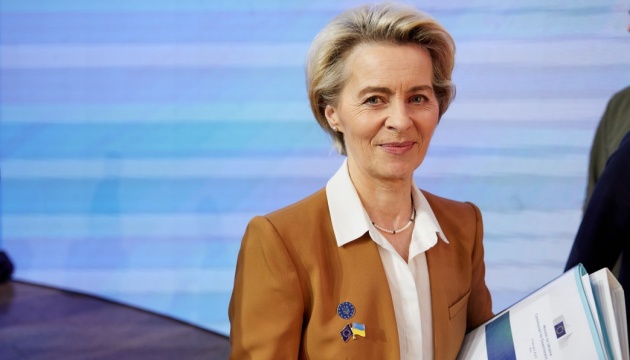 European Commission President praises Ukraine's progress on path toward EU membership
European Commission President Ursula von der Leyen said that Ukraine is making swift progress on reforms needed to become a member of the European Union.
"I am amazed to see how Ukraine is doing very difficult reforms while they are fighting a war. If they keep the pace — and I see they're absolutely motivated — this is a decisive moment," von der Leyen said in an interview on Bloomberg Television in New York.
The European Commission President also said she's confident the bloc will be able to deliver on its pledge this spring to supply Ukraine with 1 million rounds of ammunition within 12 months.
"We're pushing the industry, the military industrial base, very strongly. There's a lot of focus on it. We do our best and we work hard to deliver," she noted.
It is noted in the article that the EU is in the early stages of debating its 12th package of sanctions over Russia's war in Ukraine. EU member states are divided on what measures to include in the package.
The new measures, which could be presented as early as next month, would likely include the EU's version of the upcoming Group of Seven ban on purchases of diamonds from Moscow. They could also include a proposal to tax the profits generated by frozen central bank assets to aid Kyiv.
A group of member states, including Poland and the Baltic nations, want to go even further, calling for additional sanctions on LNG and information technology services. The group of countries has also urged restrictions on Russia's nuclear sector. But those attempts have been opposed many times before, with sanctions decisions requiring unanimous support, Bloomberg reports.
As reported, President of Ukraine Volodymyr Zelensky held talks with European Commission President Ursula von der Leyen last week.