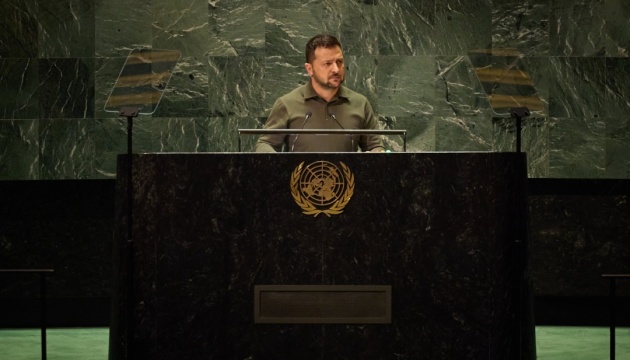 Zelensky to present details of Ukrainian Peace Formula at UN Security Council meeting
Ukrainian President Volodymyr Zelensky has said he will present the details of the Ukrainian Peace Formula at a special meeting of the United Nations Security Council on Wednesday, September 20.
He announced this in his remarks at the general debate of the UN General Assembly session, according to an Ukrinform correspondent.
"Last year, I presented the outlines of the Ukrainian peace formula at the UN General Assembly. Later in Indonesia, I presented the full Formula. And over the past year the Peace Formula became the basis to update the existing security architecture – now we can bring back to life the UN Charter and guarantee the full power of the rules-based world order. Tomorrow [on September 20] I will present the details at a special meeting of the UN Security Council," Zelensky said.
He noted that more than 140 states and international organizations had supported the Ukrainian Peace Formula fully or in part. Zelensky said that the formula offers offer solutions and steps that will stop all forms of weaponization that Russia used against Ukraine and other countries and may be used by other aggressors.
"Important talks and consultations were held in Hiroshima, in Copenhagen, and in Jeddah on the implementation of the Peace Formula. And we are preparing a Global Peace Summit," Zelensky added.
He invited all participants of the UN General Assembly to jointly prepare for the Summit.
"I am aware of the attempts to make some shady dealings behind the scenes. Evil cannot be trusted – ask Prigozhin if one bets on Putin's promises. Please, hear me. Let unity decide everything openly," Zelensky said.
At the same time, he added that Ukraine is doing everything to ensure that after Russian aggression no one in the world will dare to attack any nation.
"Weaponization must be restrained. War crimes must be punished. Deported people must come back home. And the occupier must return to their own land," Zelensky said.
Photo: UN