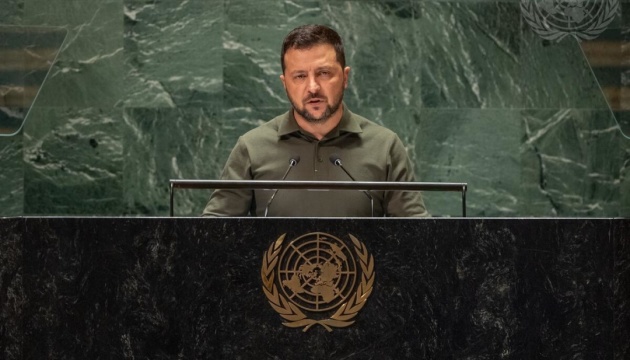 Zelensky at UN: Russia turning other countries' power plants into 'dirty bombs'
Russia is not only spreading its unreliable technologies for the construction of nuclear power plants, but it is also turning the power plants of other countries into real "dirty bombs."
Ukrainian President Volodymyr Zelensky said this in his speech at the general debate of the UN General Assembly, according to an Ukrinform correspondent.
"Many times the world has witnessed Russia using energy as a weapon. The Kremlin weaponized oil and gas to weaken the leaders of other countries when they came to the Red Square. Now the threat is even greater. Russia is weaponizing nuclear energy. Not only it is spreading its unreliable nuclear power plant construction technologies, but it is also turning other countries' power plants into real dirty bombs," Zelensky said.
As an example, he cited the Zaporizhzhia Nuclear Power Plant, which the aggressor country shelled, occupied and now blackmails others with radiation leaks.
"Is there any sense to reduce nuclear weapons when Russia is weaponizing nuclear power plants? A scary question. The global security architecture offers no response or protection against such a treacherous radiation threat. And there is no accountability for radiation blackmailers so far," he said.
Photo: UN