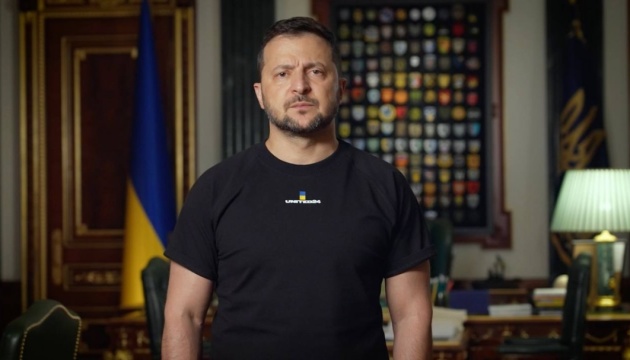 Europe always wins when treaties work and promises are kept – Zelensky
Europe always wins when treaties work and promises are kept. However, if the neighbors' decisions are not neighborly, Ukraine will respond civilly.
The relevant statement was made by Ukrainian President Volodymyr Zelensky in his video address, an Ukrinform correspondent reports.
The full text of the speech is provided below:
I wish you good health, dear Ukrainian men and women!
I had a phone call with President of the European Commission Ursula von der Leyen. Restrictive measures against our agricultural exports by the European Union have been cancelled. Now, it is important that European unity works on a bilateral level – with the neighbors. That the neighbors would support Ukraine during the war. Europe always wins when treaties work and promises are kept. Well, if the neighbors' decisions are not neighborly, Ukraine will respond civilly.
I held a lengthy meeting with government officials and the Office regarding our further tactics in protecting our agreements and free trade with the EU. By helping each other and safeguarding our shared freedom in Europe, especially economic freedom, we strengthen everyone in Europe. And this is particularly important now in the face of the genocidal aggression unleashed by Russia.
I held a new meeting of the Supreme Commander-in-Chief's Staff today. First and foremost is the front. Commander-in-Chief Zaluzhny, commanders – reports on the situation in the main directions.
Chief of Defense Intelligence Budanov – a separate report.
Minister for Strategic Industries Kamyshin – substantially about the production of weapons and rounds in Ukraine. Every week we record the progress of the state in its own defense production.
There is a significant and much-needed result for Ukraine near Bakhmut – our soldiers liberated Andriivka. The 3rd assault division, all involved forces, headquarters, commander –General Syrsky. Guys, thank you all!
Our active actions continue near Klishchiivka and Kurdiumivka.
The 36th separate marine brigade operates strongly near Opytne and Vodiane. Thank you, guys!
Near Verbove – our unyielding warriors, thank you! Near Novoprokopivka – well done!
I am proud of all the warriors who bring our victory closer!
Today, on the eve of the Rescuer's Day, I congratulated the team of Ukraine's State Emergency Service and thanked them for their courageous and selfless work. I took part in awarding laureates of the Ukrainian action "Hero – Rescuer of the Year". And this event is much more than one of the official events. Our gratitude to the employees of the State Emergency Service. Every state and departmental award for rescuers is a reflection of the fact that people's lives are protected.
I had a meeting with Karim Khan, Chief Prosecutor of the International Criminal Court.
We talked about the approach of justice for Ukraine and for all people who suffered from Russian war crimes.
The responsibility must be clear, concrete, completely fair – just like the warrant for Putin's arrest issued by the International Criminal Court. What the Russian dictator was really afraid of. And now, he tries not to leave Russia, because the force of law exists, and it is strong. And the world has every opportunity for the law to overcome the aggression of the bandit force.
We are preparing for important international events scheduled for the second half of September. I had several long meetings about this today. We are doing everything to ensure that there are significant results for Ukraine – both in new defense packages from partners and in the decisions of international institutions.
We also work to strengthen Ukraine's institutions, for the ability of our state to finally destroy oligarchic and corrupt influences. Influences that, in particular, Russia used for so long to weaken Ukraine, to constantly "eat away" the sovereignty of our state.
Today, I held a broad and meaningful meeting with representatives of law enforcement and anti-corruption agencies, the Verkhovna Rada of Ukraine, the government, and the Office. We are preparing conceptual steps that will give Ukraine and our entire society more justice, and democracy in our state – guaranteed sustainability.
One more.
Today, the Ukrainian Jewish community, together with all the Jews of the world, celebrates Rosh Hashanah. I congratulate everyone who is celebrating, and I wish the next year will be peaceful – finally peaceful for all of Ukraine, for all our people. Ukraine deserves peace because it is doing everything for victory.
I thank everyone who fights for freedom and independence! I thank everyone who helps!
Glory to Ukraine!
Video: Office of the President of Ukraine