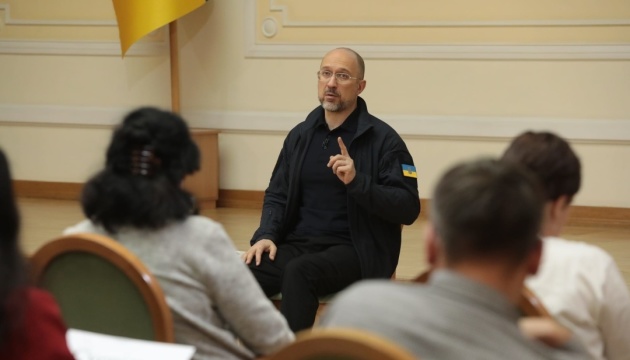 "How to vote in trenches?" Shmyhal says Ukraine has no mechanism for elections during war
There are currently no mechanisms for holding elections in Ukraine during the war. The government has no idea how this will happen.
This was stated by Prime Minister of Ukraine Denys Shmyhal during a press conference in Kyiv, an Ukrinform correspondent reported.
"My opinion coincides with the opinion of the President of Ukraine: today we have no legal and physical mechanisms, no understanding of how to hold elections in a full-scale war. How can people in foxholes and trenches vote? How can people run for office from foxholes and trenches? How can international observers monitor the proper conduct of elections in the territories where hostilities are taking place? What to do with the occupied territories? What to do with refugees outside of Ukraine, both in civilized countries and in the territory of the aggressor state, who have been taken there or deported? What to do with internally displaced persons, who are millions in number, who are not always registered and will be able to receive food stamps. There are many questions that no one has answered today. And, frankly, no one has worked on them, because we have a different priority - we need to liberate our land, and then talk about elections," the head of the Ukrainian government said.
He also emphasized that the State Budget for 2024 does not include funds for elections.
At the same time, Shmyhal noted: "If the partners find a format to ensure their presence... The key for us is not the election result. For us, the key is the recognition of the election result. If we are fighting for democracy, if Ukrainians are giving their lives for democracy, then elections in wartime should be democratically recognized. This is a priority. If we can ensure it together with our partners, we can talk about this topic, research it, look for ways out and options.