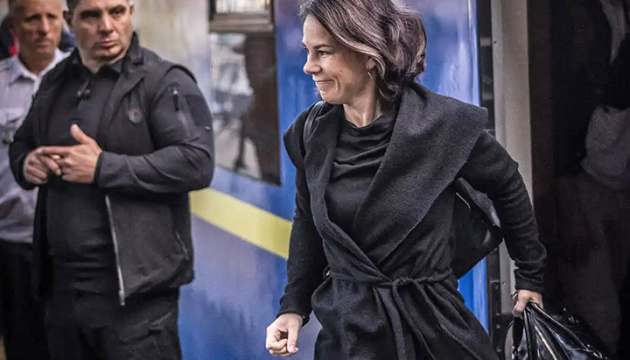 German FM Baerbock arrives in Ukraine
On Monday, September 11, 2023, German Federal Foreign Affairs Minister Annalena Baerbock is paying a surprise visit to Ukraine.
The relevant statement was made by DW, an Ukrinform correspondent reports.
"Ukraine also defends freedom and all of us with great courage and determination. Just as Ukraine stands for us, it can also rely on us," Baerbock said upon her arrival in Kyiv.
In her words, the European Union is preparing a decision to open accession talks with Ukraine.
According to Baerbock, progress in judicial reform and media legislation is already noticeable. Meanwhile, there is still a way to go in implementing the anti-oligarch law and the fight against corruption.
Baerbock noted active preparations for the winter period in Ukraine. In her words, Berlin would like to connect European and Ukrainian energy systems even more closely in this regard.
"Regardless of season, we do not stop supporting Ukraine in its defense against Russian aggression: in economic, military and humanitarian terms," Baerbock stressed.
The German minister emphasized that "Putin's terrible terror is manifested in targeted attacks on everyday life and civil institutions in Ukraine".
"Putin wants to break down, discourage and demoralize people. For this, he does not stop at anything: schools, markets, grain storages, or railway stations," Baerbock concluded.
She recalled Russia's forcible deportation of Ukrainian children from the temporarily occupied areas.
"We support organizations, the Ukrainian authorities and non-governmental organizations, working to return the abducted children home, and to ensure that these crimes are revealed. The International Criminal Court's indictment is also an important contribution to the case," Baerbock noted.
A reminder that it is the fourth visit by German Federal Foreign Affairs Minister Annalena Baerbock to Ukraine since the Russian full-scale invasion started.
Photo: dpa