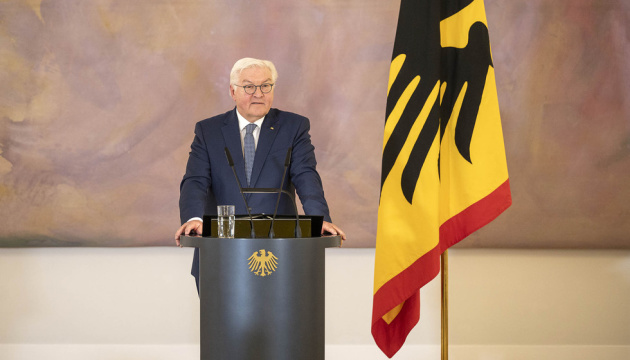 Everyone wants peace in Ukraine, but a just one - Steinmeier
The global community is working to achieve peace in Ukraine, but understands that it must be a just peace, not a temporary ceasefire, which will later lead to even greater violence.
This was stated by German President Frank-Walter Steinmeier at the opening of the 37th Sant'Egidio International Peace Meeting in Berlin on Sunday, reports Ukrinform.
The head of state reminded that this is the second such meeting since February 24, 2022, when Russia attacked Ukraine and since then every day brought suffering, destruction, and death to Ukrainians. The Ukrainians defend themselves, stand up for themselves and fight for their freedom with amazing courage, the president said.
"February 24, 2022 changed everything. With his campaign of destruction, Putin wants to destroy the values on which our common Europe is based: the validity of international law, the recognition of borders, the peaceful coexistence of all people in freedom on this continent. I think that confronting this is one of the lessons for us Europeans from the disaster of World War II. This is a lesson: 'Never again!'" noted Steinmeier.
He assured that everyone wants this "horror" to end.
"We want peace. First of all, this is what the outraged people in Ukraine want. But this peace must be just. A just peace is more than just the absence of war. It should be a long-term peace, not just a lull in the fighting, which will allow Russia to bring new troops to the front. A ceasefire in itself would only consolidate Russia's illegal occupation of Ukrainian territories," the president of Germany emphasized.
He stated that Ukraine is fighting for its territorial integrity, for its freedom, for its democratic future in Europe, against enslavement, terrible injustice, against crimes against defenseless children, women, the elderly, against bomb terror and destruction. "In short: Ukraine is fighting for what every country in the world claims – and what is a prerequisite for a just and lasting peace. It is not Ukraine or the countries that support it that are refusing peace. It is Russia that refuses peace. Putin should order his army to pull back and end this war. If Ukraine stops defending itself, it will be the end of Ukraine. And that's why we, the Europeans, and we, the Germans, support Ukraine – including with weapons," Steinmeier said, replying to all those who call for an end to the supply of weapons to Ukraine, "so as not to prolong the suffering of people."
The head of the German state called it important that at the political level Ukraine's partners think together with Ukraine about what a peaceful solution could look like.
Earlier in the day, Steinmeier told the participants of the meeting that "religion should never be an excuse for hatred and violence, ... anyone who, in the name of religion, takes the side of an aggressive warlord who wants to subjugate a peaceful, democratic neighboring country by force; the one who supports it, being the head of the Christian church; anyone who acts in this way fundamentally violates the faith's commandment of peace." In this way, he commented on the position of the Russian Orthodox Church.
The international peace meeting of the Christian community of St. Egidio in Berlin called "Dare for Peace" brought together politicians and representatives of various religions who will discuss for three days how to peacefully resolve conflicts and how to develop international cooperation. Chancellor Olaf Scholz and other politicians will join the work of the meeting.