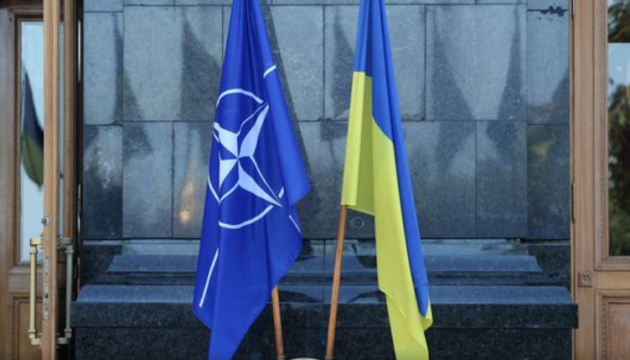 Ukraine to be invited to NATO as it benefits allies - defense minister
Ukraine will definitely be invited to join the North Atlantic Treaty Organization because it is beneficial to member states.
Defense Minister Oleksii Reznikov expressed this opinion in an interview with Ukrinform.
"We will definitely be invited to NATO because it will be beneficial for them. But it will happen after our victory. Then there will be a political vote as it will be a political decision, not a legal one, because de facto we are already a NATO ally by all indicators," Reznikov noted.
He expressed hope that Ukraine would be invited to NATO at the next summit of the organization, including due to certain symbolism. The minister of defense noted two symbols that come to his mind. The first is that the next NATO summit will mark the 75th anniversary of the founding of the Alliance. "NATO was founded on the initiative of the United States, it is the Washington Agreement and the next summit will be hosted by Washington. Why would it be symbolic to invite Ukraine to Washington for the 75th anniversary of NATO? It's the strongest army from the point of view of experience, casualties, morale, and courage," argued Reznikov.
At the same time, he added: "There's also a second symbol. Taking into account the acceptance of Sweden, there will soon be 32 countries in NATO – there are already 31 and there will be more. Next year marks the 33rd anniversary of Ukraine's independence, and Ukraine should become the 33rd member of NATO, which would be logical."
As Ukrinform reported earlier, on September 30, 2022, President Volodymyr Zelensky, Chairman of the Verkhovna Rada Ruslan Stefanchuk, and Prime Minister Denys Shmyhal signed Ukraine's application for accelerated accession to NATO. In July 2023, at the NATO summit in Vilnius, Lithuania, the leaders of member states published a final communique, which states that the future of Ukraine is in NATO, and that the country will receive an invitation to join once all member states agree to it and the relevant conditions are met.
Also at the summit, the creation of the Ukraine-NATO Council was also announced, and the Membership Action Plan on Alliance was cancelled. In addition, the leaders of the Group of Seven (G7) countries on the sidelines of the NATO summit agreed on the Joint Declaration of Support for Ukraine.
The next NATO summit will be held in Washington in 2024.
On September 3, President Volodymyr Zelensky announced that within a week, he would propose to parliament to dismiss Oleksii Reznikov from the post of Minister of Defense and to appoint the current head of the State Property Fund, Rustem Umyerov, as Reznikov's replacement. On September 4, Reznikov said he tabled in the Verkhovna Rada a resignation letter.