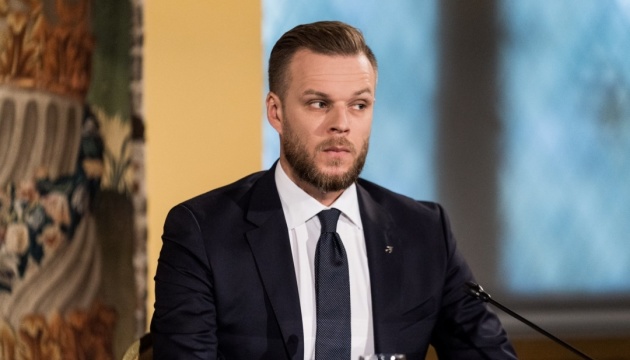 Lithuania's Landsbergis urges West to pump up arms supplies to Ukraine
Failure to give Ukraine the support it needs to defend itself against the Russian invasion will have a higher cost for everyone, including European countries, Lithuania's Foreign Minister Gabrelius Landsbergis believes.
That's according to EURACTIV, Ukrinform reports.
"Either the situation was not considered serious enough (…), or there was fear of what would happen if with Russia if we give Ukraine a big enough stick and leverage was effective and a nuclear power lost a war it had started," Landsbergis told EURACTIV.
"If this [fear] is a driver of a policy not to give Ukraine the big stick it needs, then we enter a new chapter in which 'power is right' – this is a very dangerous world," he said.
Landsbergis slammed the attempts voiced in some western capitals to criticize the pace of Ukraine's counteroffensive, noting that this is his main worry as "unjustified" pressure is now mounting on Ukraine.
"When we were preparing for the July NATO Summit in Vilnius, it looked as if there is a clear way [the counteroffensive] would go, that we will send what we have and then expect Ukraine to perform a miracle," Landsbergis said."And if they cannot move fast enough, then some might say: 'Too bad, now they have to negotiate.' We cannot get caught in a mind trap," he said.
Landsbergis, however, stressed that the Ukrainians have shown that "they have the capacity to win this war".
"We need to explain that if Ukraine does not win, it will cost more – for everybody. It will cost for Armenia, Moldova, Ukraine, Georgia, and even possibly for us Baltics and Poles," Landsbergis said.
Asked whether he is confident EU unity on Ukraine will hold, Landsbergis said that "unity usually holds when there is leadership".
While Eastern Flank countries have naturally been outspoken, "there is a need for big European allies to continue carrying the flag, and then unity will form as it has before," he added.
EU foreign and defense ministers this week are discussing a proposal by EU's chief diplomat Josep Borrell to put European support for Kyiv on a longer-term footing after more than a year of scrambling to respond to Russia's invasion.
The proposal is to provide up to EUR5 billion a year for the next four years for Ukraine's defense needs, by creating a dedicated section under the European Peace Facility (EPF).
Asked whether the EU's plans would entail enough financial firepower, Landsbergis said such a "commitment would make European support to Ukraine more strategic so that they can plan what, when, where and what kind of military equipment they could have".