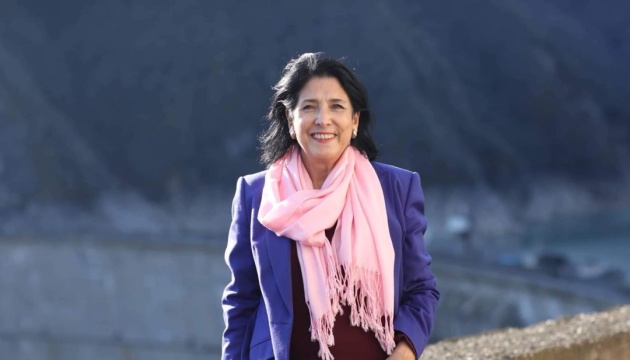 The Black Sea cannot be left to Russian control - Georgian president
The Black Sea cannot be left under the control of the Russian Federation, which is driven by military ambitions, impeding free navigation and global food supplies.
This was stated by the President of Georgia, Salome Zurabishvili, who spoke via videoconference at the third International Summit of the Crimea Platform, Ukrinform reports.
"This war has once again demonstrated global importance of the region, solidified the argument that the Black Sea is definitely an indivisible part of European stability and security. The sea that cannot be left to the control of the power that is ready for its own militaristic ambitions to challenge maritime security and free transit, and to disrupt global food deliveries," Zurabishvili said.
She added that the Russo-Ukrainian war also proved that the stability and security of Europe does not exist without extending to the entire continent – "from Lisbon to Tbilisi."
This war also demonstrated that the de-occupation and liberation of all territories is "an absolute prerequisite to peace and stability," the president of Georgia emphasized.
According to her, the unity and determination of Europe is "crucial" for the victory of Ukraine and no less crucial for the future security of Georgia and Moldova.
"Confronted by a new wave of pressure, threats, and multifold provocations, tantamount to a hybrid war, our people demonstrated their clear resolve to further solidify our countries' European integration paths and be faithful to their one and only perspective. That is my conviction that Georgia should, and I hope is that Georgia will, receive the candidate status and rejoin Ukraine and Moldova on our common accelerated path toward the EU," Zurabishvili said.
As reported earlier, the third International Summit of the Crimea Platform is being held in Kyiv, dedicated to Ukraine's vision regarding the future of temporarily occupied Crimea and security issues in the Black Sea region.