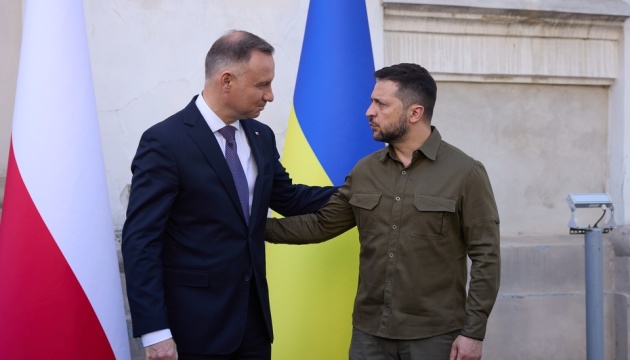 "Together we are stronger": Zelensky and Duda honor memory of Volyn tragedy victims
In Lutsk, President of Ukraine Volodymyr Zelensky and President of Poland Andrzej Duda honored the memory of the victims of the Volyn tragedy.
Ukrinform reports this with reference to the Telegram channel of President Zelensky.
"Together, we honor all the innocent victims of Volyn! Memory unites us! Together we are stronger!" Zelensky wrote.
As reported by Ukrinform, Zelensky and Duda arrived in Lutsk on July 9, where, in particular, they took part in a mourning mass in the Saint Peter and Paul Cathedral.
The topic of the Volyn tragedy is one of the most controversial in Ukrainian-Polish relations. Kyiv and Warsaw have difference views on the causes, responsibility and number of victims. Poland insists that the Ukrainian side is responsible for the crime committed in 1943-1944 in Volyn, but Ukraine insists that both sides are responsible and the apology should be mutual.
At the same time, Duda recently said that Poland and Ukraine are converging their positions in understanding complex historical issues and are planning joint events to honor the victims of the Volyn tragedy in July.
On July 7, the heads of the Ukrainian Greek Catholic Church and the Polish Roman Catholic Church, Sviatoslav Shevchuk and Stanislaw Gadecki, signed a joint message on the anniversary of the Volyn tragedy, condemning the crimes committed 80 years ago, and called for reconciliation and unity of the Ukrainian and Polish peoples.