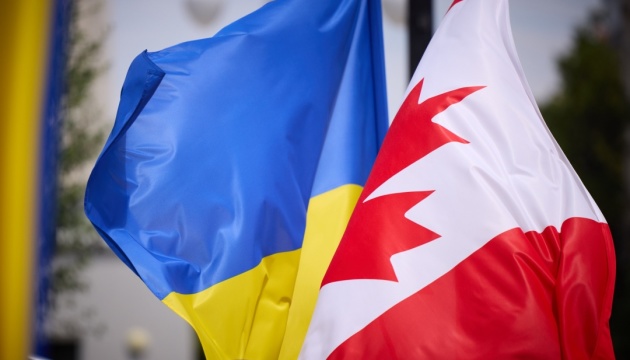 Canada becomes 20th country to declare support for Ukraine's NATO membership
The joint declaration, signed by President Volodymyr Zelensky and Prime Minister Justin Trudeau of Canada contains the firmest wording of support for the Euro-Atlantic aspirations of Ukrainians among the G7 nations and for the first time publicly records support for the creation of the Ukraine-NATO Council.
Deputy Head of the President's Office Ihor Zhovkva reported the news on Facebook, Ukrinform saw.
"The joint declaration clearly records Canada's support for Ukraine's acquisition of NATO membership as soon as conditions allow. This is the strongest wording among all the G7 countries that are NATO members. Canada also supports the creation of the Ukraine-NATO Council instead of the corresponding Commission – and this is the first such public support for the new mechanism of interaction between Ukraine and the Alliance," official said.
Zhovkva emphasized that only 10 days have passed since the summit of the European Political Community in Moldova, where a joint declaration was signed with Romania, concluding that currently, 20 states have formalized their support for Ukraine's membership of the Alliance.
"Another practical step on the Euro-Atlantic path, another powerful voice in support of Ukraine and another stage of preparation for the successful holding of the Vilnius NATO Summit in July," he emphasized.
The deputy head of the President's Office also explained that the declaration defines the priority areas of cooperation, as well as records Canada's support in issues that are fundamentally important for Ukraine, outlines the range of assistance, including political, military, financial, and humanitarian, which Canadian partners have already provided and intend to continue providing to Ukraine.
The document reaffirms Canada's support for the Ukrainian Peace Formula, implementation of the Black Sea Grain Initiative, and the Grain from Ukraine humanitarian program.
In addition, Zhovkva noted that in the document, Canada expressed readiness to continue work to seize and confiscate Russian assets, and supported international efforts to hold Russia accountable for the crime of aggression.
"Starting from February 2022, Canada has allocated more than $8 billion in large-scale assistance to Ukraine and will continue to support our country as long as it's needed," he stressed.
The deputy head of the President's Office added that Trudeau's visit to Kyiv is no coincidence because now, more than ever, Ukraine needs even more support from friends: both to tackle the catastrophic consequences of the Russian terror attack on the Kakhovka dam, and in the conditions of an ongoing counteroffensive to de-occupy Ukrainian territories.
As Ukrinform reported earlier, Canadian Prime Minister Justin Trudeau arrived on a surprise visit to Ukraine on Saturday.