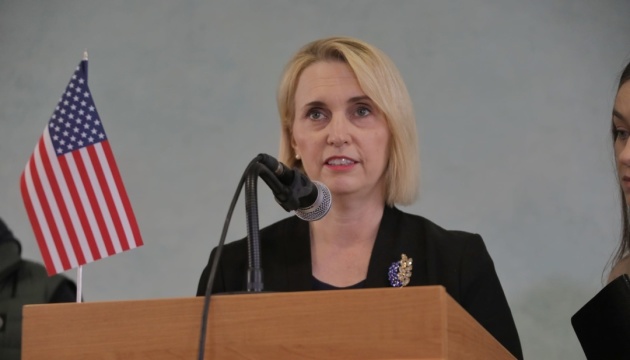 U.S. works with partners to support Ukraine's Formula for Peace - Brink
The United States supports President of Ukraine Volodymyr Zelensky's Peace Formula and is working with partners and allies to support the Ukrainian leader's vision.
Bridget Brink, U.S. Ambassador to Ukraine, said this at the forum "A Great Day with NV. Dialogues on Ukraine's Recovery" forum, an Ukrinform correspondent reports.
She noted that the United States supports President Zelensky's peace proposal. They are working not only with Ukraine, but also with partners and allies to support this vision. And at some point it will be discussed even more.
Brink emphasized that Zelensky's peace formula is based on supporting Ukraine's territorial integrity and sovereignty, ensuring that Russia pays a fair price, and providing responsibility for the more than 80,000 war crimes and atrocities already committed.
As reported, in November 2022, President of Ukraine Volodymyr Zelensky presented a 10-point Ukrainian Peace Formula in a speech to the G20 summit participants.
During a speech at the G7 summit in Hiroshima in May, Zelensky proposed to convene an international summit in July dedicated to the Ukrainian Peace Formula.