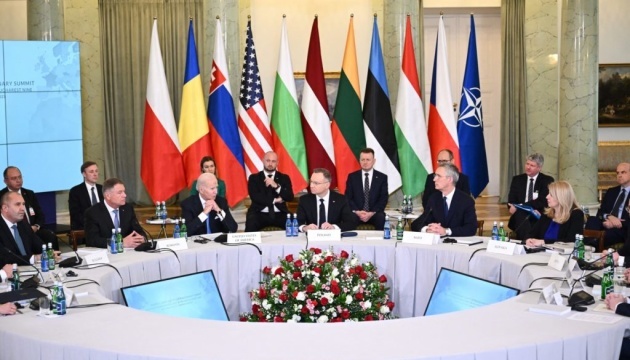 Leaders of the Bucharest Nine meet in Bratislava
Today, the leaders of the Bucharest Nine (B9) are meeting in Bratislava, Slovakia.
The main topics of the talks between the presidents of the nine countries will be agreeing on common priorities for the NATO summit in Vilnius, as well as discussing further support for Ukraine, Ukrinform's own correspondent reports.
"In a few weeks, the NATO summit will take place in Vilnius (July 11-12), where important decisions will be made from the point of view of Poland and the region. The point is that the presidents of the Bucharest Nine should speak a common language in Bratislava today in the context of our priorities," said Marcin Przydacz, head of the Presidential Bureau for International Policy, at a media briefing on Tuesday.
According to him, it is important that NATO continues its policy of deterring Russia. The politician emphasized that the Alliance, through the active participation of its member states, should continue to support Ukraine in countering the aggressor and adapt NATO to new threats.
The program of the B9 meeting includes the inaugural and plenary sessions of the leaders, a working breakfast of the B9 presidents, and a statement to the media.
The B9 format, or "Bucharest Nine," was created at the initiative of the presidents of Romania and Poland in November 2015 and covers the countries of NATO's eastern flank. In addition to Poland and Romania, the B9 also includes Bulgaria, Hungary, Slovakia, the Czech Republic, Lithuania, Latvia, and Estonia.