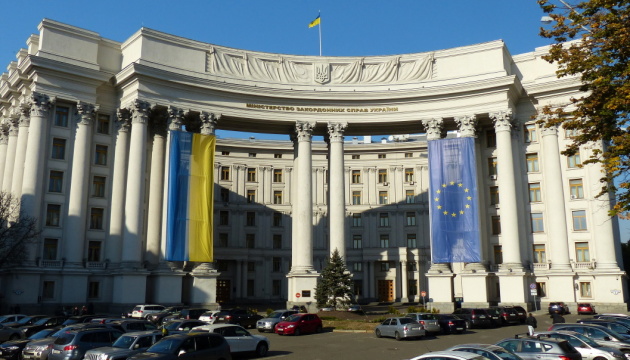 MFA Ukraine reacts to Indonesia's "peace plan"
The Ministry of Foreign Affairs of Ukraine explained why the "peace plan" proposed by Indonesia would not work, and called on the country to join the implementation of the Ukrainian peace formula.
That's according to a spokesman for MFA Ukraine, Oleg Nikolenko, who addressed the issue on Facebook.
Indonesia is an important actor in the Southeast Asian region, which currently chairs ASEAN, Nikolenko recalled, adding that last year, its President Joko Widodo was the first Asian leader to visit Kyiv to see firsthand the consequences of Russian aggression.
"We appreciate the attention that Indonesia, apparently drawing conclusions from its own history, is paying to the issue of restoring peace in Ukraine," Nikolenko emphasized.
At the same time, he recalled that there are no disputed territories between Ukraine and the Russian Federation to hold referenda there. Having committed an act of aggression, Russia annexed Crimea, parts of Donetsk, Luhansk, Zaporizhzhia, and Kherson regions, which is recorded in official UN documents.
In the occupied territories, the Russian army commits war crimes, crimes against humanity, and acts of genocide.
"Russia must withdraw from Ukrainian territories, and Ukraine must restore its territorial integrity within internationally recognized borders. There can be no alternative scenarios," spokesman emphasized.
Nikolenko noted that the ceasefire, the disengagement of forces to a distance of 15 kilometers, and the creation of a demilitarized zone will not work out.
Indeed, today Russia is trying in every possible way to disrupt the Ukrainian counteroffensive. A ceasefire without the withdrawal of Russian troops from the territory of Ukraine will allow Moscow to buy time, regroup, gain a foothold in the occupied areas, and restore capabilities for a new wave of aggression.
"Long-lasting peace in Ukraine means liberation of Ukrainian territories from Russian occupation. This is what the peace formula by President Volodymyr Zelensky of Ukraine is aimed at. We invite Indonesia to join its active implementation," added Nikolenko.
As Ukrinform reported earlier, Indonesian Defense Minister Prabowo Subianto proposed his own "peace plan" for Ukraine, which provides for an immediate ceasefire and the creation of a demilitarized zone along the current line of contact.