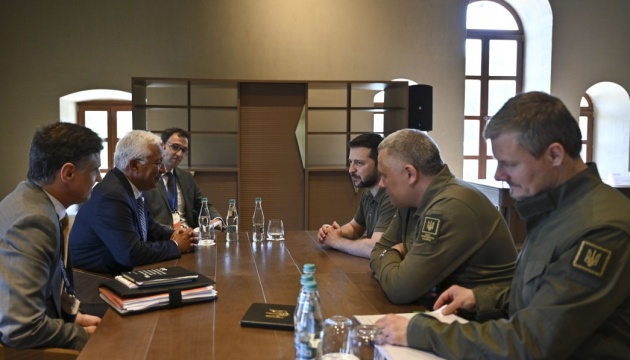 Ukraine's president, Portugal's PM discuss pilot training, NATO summit
Ukrainian President Volodymyr Zelensky said at a meeting with Portuguese Prime Minister Antonio Costa that Portugal was ready to participate in the training of Ukrainian pilots.
That's according to the Office of the President of Ukraine, Ukrinform reports.
"In the framework of his participation in the European Political Community Summit, President of Ukraine Volodymyr Zelensky met with Prime Minister of the Republic of Portugal Antonio Costa. The Head of State thanked Antonio Costa for the comprehensive and consistent military, political and humanitarian support for Ukraine by the Portuguese government," the report said.
In particular, Zelensky noted Portugal's readiness to participate in the training of Ukrainian pilots.
"Portugal's assistance is extremely important for countering Russia's aggression and restoring Ukraine's sovereignty and territorial integrity," he said.
Zelensky briefed Costa on the situation on the frontline and the consequences of recent massive missile strikes by Russia.
Special attention was paid to the upcoming NATO Summit in Vilnius. Zelensky said that the strongest and most concrete decisions of the NATO Summit are important for bolstering the security of Europe and bringing the end of the war closer.
Zelensky expressed hope that Portugal, along with other partners, would support the coordination of a clear algorithm on Ukraine's path to NATO membership.
Zelensky and Costa also discussed Ukraine's progress on the path to European integration.
The two exchanged views on further steps to implement the Ukrainian Peace Formula and involve Portugal in this process, particularly in the context of the preparation of the Global Peace Summit.
Photo: Office of the President of Ukraine