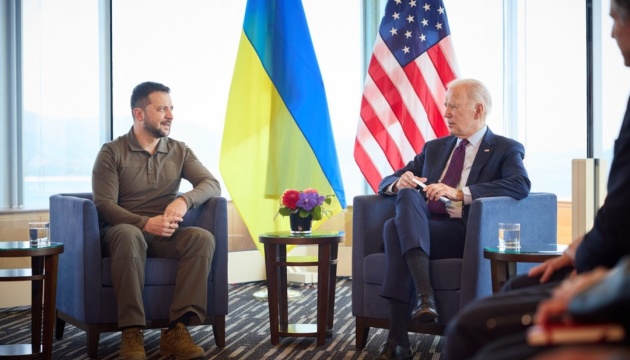 Zelensky, Biden discuss cooperation on Ukraine defense capabilities
President Volodymyr Zelensky of Ukraine thanked his U.S. counterpart Joe Biden for providing strong financial assistance to Ukraine, and discussed further cooperation to strengthen Ukraine's defense capabilities.
As reported by Ukrinform, this is noted in Zelensky's Telegram posting.
"In Japan, I met with President of the United States Joseph Biden. A huge gratitude from our people for the powerful financial assistance to Ukraine provided by the United States, which totals $37 billion, as well as for a new military assistance package worth $375 million," Zelensky wrote.
"We discussed further cooperation to bolster the defense capabilities of our state, as well as the implementation of the Ukrainian Peace Formula. We also exchanged views on projects for the reconstruction and recovery of Ukraine," Ukrainian president said.
As reported, President Volodymyr Zelensky and U.S. President Joe Biden held a meeting in Hiroshima as part of the G7 summit.
The U.S. Department of Defense on Sunday, May 21, announced additional security assistance to Ukraine to help the nation meet its critical security and defense needs.