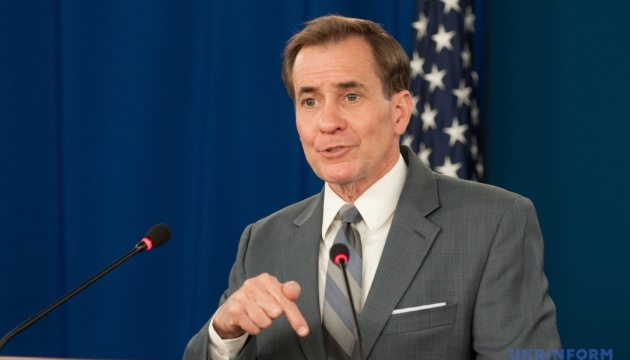 Trump's comments on Ukraine have no impact on Washington's policy - White House
Former U.S. President Donald Trump's statements about Russia's war against Ukraine, where he expressed doubts about America's continued support for Ukrainians, have not affected the policy of Washington and its partner countries on this issue.
U.S. National Security Council Coordinator for Strategic Communications John Kirby said this on Friday during an online briefing, an Ukrinform correspondent reports.
"Every indication that we have, every single day is that the international community, with some very few exceptions, exceptions that we've talked about for many months, stands solidly behind supporting Ukraine and continuing to support Ukraine as they fight to defend themselves," the Biden administration official said.
In this regard, he recalled the Contact Group on Ukraine's Defense meeting, which continues to work actively, bringing together more than 50 countries.
Kirby noted that he sees no weakening in the position of the vast majority of countries to continue to assist Ukraine, particularly in the last few days after former President Trump's speech.
"We're going to stay focused on supporting Ukraine, and we continue to see terrific support internationally for that," the White House official emphasized.
As Ukrinform reported, on Wednesday, former U.S. President Donald Trump, who is running for the White House again, answered questions about Russia's war against Ukraine during a speech on CNN. In particular, he said that the war would not have happened if he had been president of the United States at the time and boldly stated that he would have sat Putin and Zelenskyy at the negotiating table, and the conflict would have been over within 24 hours.
In addition, Trump avoided a direct answer to the question of whether he would support further assistance to Ukraine if he were president again. However, among his remarks, he noted that the United States gave away so much equipment, so much ammunition that we don't have it for ourselves now. In addition, the former president repeated his previous narrative that the European Union should allocate more money for this purpose than the United States.