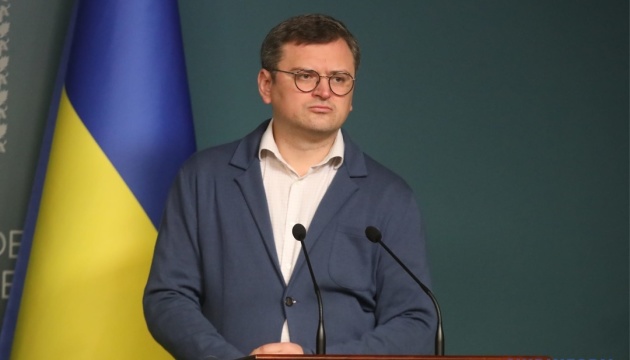 Two more countries ready to support Ukraine's accession to NATO - Kuleba
Following diplomatic meetings in Odesa yesterday, April 28, two more countries decided to support Ukraine's accession to the North Atlantic Alliance (NATO).
Ukrainian Foreign Minister Dmytro Kuleba said this on the air of the nationwide telethon, Ukrinform reports.
"Yesterday, following the talks, one of our close friends came up to me, leaned over and whispered: "Congratulations, Dmytro, today Ukraine has received two more votes in its support in NATO," Kuleba said.
According to him, the point is that during the day of communication in Odesa in various formats, Ukrainian diplomats changed the opinion of the two countries, which had previously been more reserved, and now decided to support the decision of the NATO summit in Vilnius, which will take a step forward towards Ukraine's membership in the alliance.
"This is not yet the consensus that is needed, but we have definitely increased the coalition of countries that will fight for the strongest possible decision on Ukraine's membership in NATO yesterday in Odesa," Kuleba emphasized.
As Ukrinform reported, on April 28, a joint briefing of the foreign ministers of the Nordic and Baltic countries was held in Odesa. It was attended by Latvian Foreign Minister Edgars Rinkēvičs, Danish Foreign Minister Lars Løkke Rasmussen, Estonian Foreign Minister Margus Tsahkna, Icelandic Foreign Minister Thordis Kolbrun Reykfjord Gylfadottir, Minister for Foreign Affairs of Lithuania Gabrielius Landsbergis, Minister for Foreign Affairs of Norway Anniken Huitfeldt, Minister for Foreign Affairs of Sweden Tobias Billström and Undersecretary of State of the Ministry of Foreign Affairs of Finland Kai Sauer.
The meeting of NATO Heads of State and Government will take place in Vilnius on July 11-12, 2023.
On April 20, President Volodymyr Zelensky said that Ukraine is preparing for the NATO summit in Vilnius and expects a political invitation to join the alliance.
Kuleba believes that NATO should make a political decision that will either determine the timetable for Ukraine's accession directly at the Vilnius summit or oblige it to present it by the end of 2023.