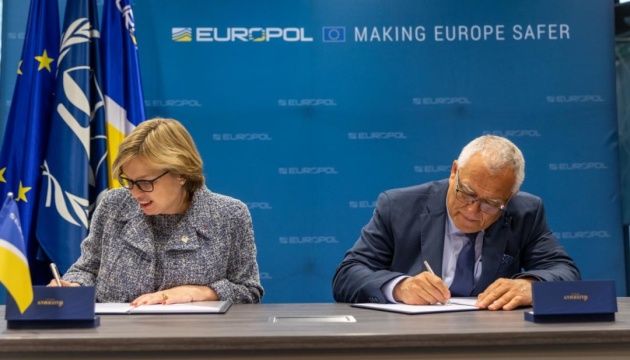 ICC, Europol sign agreement to strengthen cooperation
The International Criminal Court and Europol have signed a working agreement to strengthen cooperation.
This was reported by Ukrinform with reference to the ICC.
"On 25 April 2023, judge Piotr Hofmański, the President of the International Criminal Court (ICC), and Catherine De Bolle, the Executive Director of the European Union Agency for Law Enforcement Cooperation – Europol, signed a Working Arrangement at Europol Headquarters in The Hague (The Netherlands)," the statement said.
It is noted that the agreement provides a legal basis for the establishment of cooperation between the ICC and Europol, so that the institutions strengthen their cooperation and encourage the exchange of information, experience and knowledge.
"I look forward to the enhanced cooperation and interaction which will take place under this Working Arrangement. Europol's expertise and specialist knowledge is world-leading and the ICC is fortunate to be able to benefit from it. I am confident that the strengthened relationship between the ICC and Europol can enhance the capacity of both our organisations to discharge their respective mandates aimed at ensuring that serious crimes do not go unpunished," said Hofmański.
For her part, the Executive Director of Europol said that the signing of this working agreement is an important step forward in international efforts to bring to justice those responsible for some of the world's most serious crimes. "At Europol, war crimes, crimes against humanity and genocide have been part of our mandate since 2017. We have received contributions on war crimes from over 20 different areas of conflict, such as Syria, Iraq, Libya and most recently Ukraine. This new level of cooperation with the ICC will allow for a more effective response to core international crimes, with all relevant actors working together and sharing information and resources to end impunity," she emphasized.
Thus, according to this agreement, cooperation may include the exchange of specialized knowledge, collection of evidence, reports on the general situation, results of strategic analysis, information on criminal investigation procedures, information on crime prevention methods, participation in training activities, as well as the provision of advice and support in individual criminal cases.
As Ukrinform previously reported, Ukrainian prosecutors will cooperate and exchange information with the European Public Prosecutor's Office.