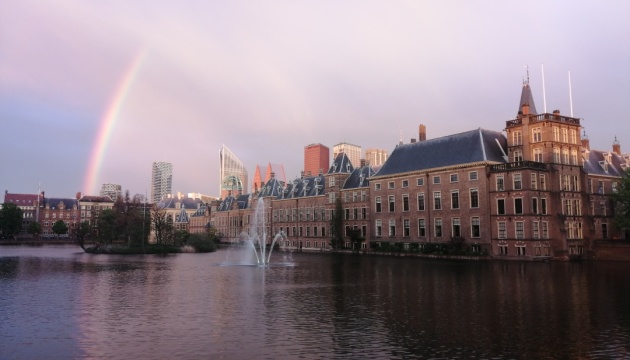 The Hague City Council favors initiative to host special tribunal to prosecute Russia
The Hague City Council favored the initiative put forward by VVD (People's Party for Freedom and Democracy) leader Lotte van Basten Batenburg on the creation of a special tribunal to prosecute the Russian Federation in The Hague.
"As a member of The Hague City Council, I want The Hague city authorities to do everything possible to support the creation of a special tribunal and to prepare for its location in our city. The Hague is an international city of peace and justice, the ICC and special tribunals for Rwanda and Yugoslavia are already here. Eurojust and Europol are also headquartered here. Therefore, we have the experience and international legal infrastructure to host the future special tribunal which will investigate and prosecute the crimes and atrocities committed during Russia's war of aggression against Ukraine," Lotte van Basten Batenburg told an Ukrinform correspondent in The Hague in an exclusive comment.
According to her, almost the entire city council membership voted in favor of her proposal to make an effort to host this special tribunal in The Hague.
"We know that it will likely take a long time to build enough international support for the establishment of the tribunal and then for the tribunal to begin its work. The Hague should fully support this and propose and initiate preparations to host the tribunal. We must make sure that once the special tribunal is officially established, the courtrooms, offices, etc. will be ready for use so that justice can be administered," the VVD party leader said.
Asked about the location of the new special tribunal, she noted that the Rwanda and Yugoslavia tribunals were completing their work so it is possible that their offices and courtrooms can be used for a new special tribunal to prosecute the Russian Federation.
"I can imagine that a new or another building will be needed, considering how many war crimes have already been registered and investigated in Ukraine. The best place will certainly be near Europol, Eurojust, the ICC and the special tribunals for Rwanda and Yugoslavia," Lotte van Basten Batenburg believes.
She also noted that the European Commission suggested on November 30, 2022, creating a specialized independent tribunal or a specialized court with the support of the United Nations to investigate and prosecute the crime of Russian aggression.
As reported, on September 22, President Volodymyr Zelenskyy created a working group led by Head of the President's Office Andriy Yermak to deal with the issue of creating a special international tribunal to bring those guilty of aggression against Ukraine to justice.
ol