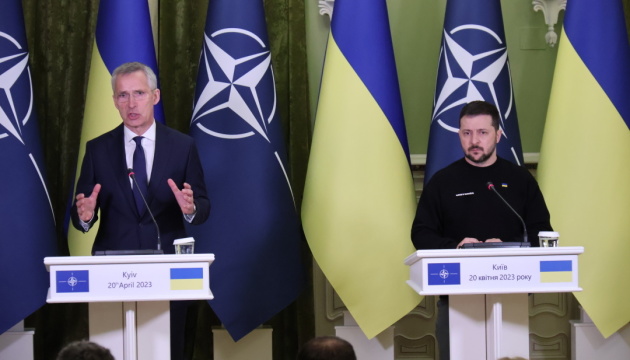 Weapons for Ukraine, their maintenance to be discussed in Ramstein - Stoltenberg
At a meeting of the Ukraine Defense Contact Group in Ramstein, Germany, on April 21, NATO Allies will make new commitments regarding the supply of weapons to Ukraine, as well as the provision and maintenance of the systems that have already been provided to Kyiv.
NATO Secretary General Jens Stoltenberg said this at a joint press conference with Ukrainian President Volodymyr Zelensky in Kyiv on Thursday, April 20, according to an Ukrinform correspondent.
"At the meeting in Ramstein tomorrow, I expect that NATO Allies and partners will make new announcements of concrete military support to Ukraine and that, of course, will come on top of the unprecedented support which has all been delivered. And I expect the NATO Allies to do so both because it's the morally right thing to do," he said.
According to Stoltenberg, such assistance corresponds to the interests and security of NATO and allied countries, because if Putin wins, it will make the world more dangerous and NATO members more vulnerable.
"Then the message is that when authoritarian powers, like Russia, like President Putin uses forces, they get what they want. So it's in our security interest, it's in the security interest of NATO Allies to support Ukraine," he said.
Stoltenberg recalled that already today there have been new announcements from Allies on assistance for Ukraine. "The Netherlands and Denmark are announcing 14 new Leopard battle tanks. And then the United States has announced a new package of 325 million extra U.S. dollars, including more HIMARS and ammunition and missiles for HIMARS," he said.
"We need constant discussion on different types of platforms. [...] At the beginning, the main focus was on light anti-tank weapons like the Javelins, then it was a big focus on artillery, and then it was on air defense systems, including advanced air defense systems like the NASAMS and the Patriot batteries, and now on the battle tanks and now Allies are also providing battle tanks and actually Allies were providing fighter jets," Stoltenberg said.
He said it was also extremely important to ensure that all the systems, all the weapons that are already in Ukraine work as they should.
"They [the systems] need ammunition, enormous amounts of ammunition, they need spare parts, maintenance, repair capabilities, maintenance, so yes, we should discuss whether there's a need for new platforms, but to just ensure that all the platforms which are there are working as they should is an enormous task and that will also be addressed when we meet in Ramstein tomorrow," Stoltenberg added.