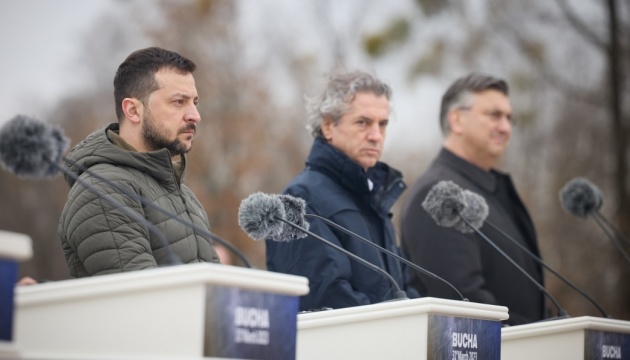 Slovenia supports Ukraine to become NATO member as soon as conditions allow
The Republic of Slovenia supports Ukraine's membership in NATO as soon as conditions allow.
This is said in a joint declaration of President of Ukraine Volodymyr Zelensky and Prime Minister of the Republic of Slovenia Robert Golob, which is published on the president's website.
"The Republic of Slovenia supports Ukraine to become NATO Member as soon as conditions allow," the document says.
The leaders of condemned "in the strongest possible terms" Russia's full-scale military invasion of Ukraine, which undermines the foundations of the UN Charter, and confirmed their support for the principles of international law, the inviolability of borders and the right of each state to choose its own path and security measures.
The leaders also reiterated their demand that the Russian Federation immediately, completely, and unconditionally withdraw all of its military forces from the territory of Ukraine within its internationally recognized borders.
In addition, they underlined their firm commitment to bring to justice those responsible for war crimes and other serious crimes committed in connection with Russia's war of aggression against Ukraine, and to support the establishment of an ad hoc international tribunal to ensure accountability for the crime of aggression.
In the document, Slovenia also supported the idea of a Peace Formula Summit aiming at promoting its effective implementation to be convened when conditions allow.
It is noted that the Republic of Slovenia will continue to promote strong and effective political and material support by the EU and NATO for Ukraine aimed at ensuring the ability of the Ukrainian state to effectively defend its territories in line with its inherent right of self-defence.
Ukraine and the Republic of Slovenia expressed readiness to hold bilateral consultations on Ukraine's security concerns prior to NATO membership.
In turn, Ukraine supported the candidature of the Republic of Slovenia for non-permanent seat at the United Nations Security Council for the 2024–2025 term.
As reported, Prime Minister of Slovenia Robert Golob said that Slovenians consider it their duty to help Ukraine in the fight for freedom and bringing the Russian aggressors to justice for the heinous crimes they committed.
Photo: President's Office