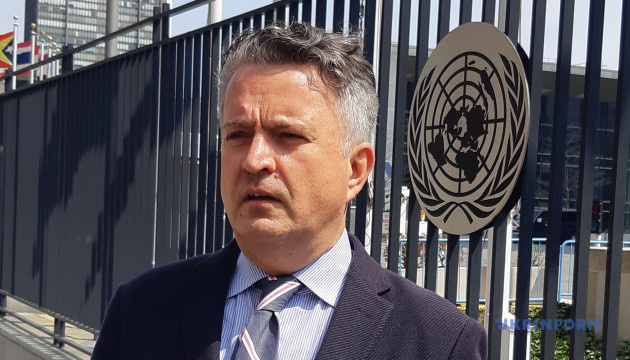 "It took only four days" for Russia to violate pledge to China - Ukraine at UN
The Kremlin lies and neglects even those whom it calls friends and strategic partners, said the Permanent Representative of Ukraine to the UN, Sergiy Kyslytsya.
The envoy spoke at a meeting of the UN Security Council discussing Russian President Vladimir Putin's threats to deploy nuclear weapons in Belarus, Ukrinform's own correspondent reports.
"It took only four days for putin to violate another pledge that he recently made with the President of the People's Republic of China in the Joint Statement on Deepening the Comprehensive Strategic Partnership of Coordination for the New Era, signed on 22 March 2023. The document declares that [I quote] "all Nuclear-Weapon States should refrain from deploying nuclear weapons outside their national territories," ambassador said.
To the credit of the Chinese side, it reminded to Moscow in a very sensible manner that a nuclear war cannot be won and fought, and that nuclear proliferation must be prevented, the permanent representative to the UN noted.
Unlike Russia's, the Chinese side's position on nuclear weapons is "firm and clear," Kyslytsya said.
Kyslytsya recalled that Ukraine is a party to the Treaty on the Non-Proliferation of Nuclear Weapons, and also signed the Budapest Memorandum in 1994 on security guarantees in connection with joining the NPT.
Ukraine gave up the world's third largest nuclear arsenal, he emphasized. However, according to Kyslytsya, one of the guarantor states - the Russian Federation - failed to fulfill its obligations under the Budapest Memorandum and once again demonstrates that it perceives nuclear arms as a tool of threats and intimidation, rather than a means of deterring and preventing war.