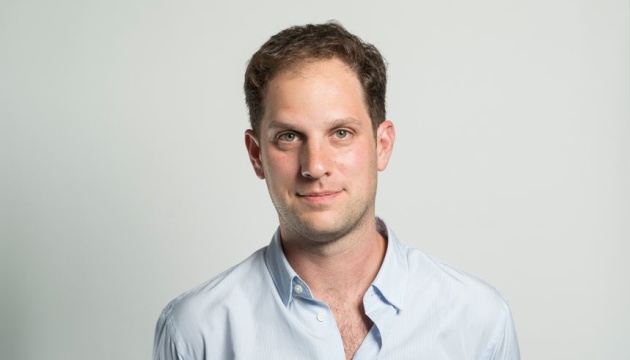 WSJ journalist arrested in Moscow on "espionage" charges
Moscow's Lefortovsky Court, at the motion filed by the FSB security service, ruled to remand in custody U.S. citizen Evan Gershkovich, a journalist with The Wall Street Journal, who is being accused of "espionage."
This is reported by Ukrinform with reference to the Moscow courts' press service.
"By the resolution of the Lefortovsky District Court in Moscow of March 30, 2023, E. Gershkovich, who is suspected of committing the crime laid down by Article 276 of the Criminal Code of the Russian Federation (espionage - ed.), was remanded in custody for a period of 1 month and 29 days, i.e. until May 29, 2023," the statement reads.
Russian media clarified that Gershkovich's case was labeled "top secret", and that the suspect does not plead guilty. The court session was held behind closed doors.
Lawyer Danilo Berman, authorized to represent Gershkovich's interests, was not allowed access to his client.
Pursuant to Article 276 of the Criminal Code, Gershkovych may face 10 to 20 years in prison.
As reported, on the morning of March 30, Russia's FSB announced that Evan Gershkovich had been earlier detained in Yekaterinburg. The agency claims that the journalist had been gathering classified information about one of the Russian defense companies. The Kremlin added that Gershkovich was "caught red-handed at the crime scene."
Russian media reported that the WSJ correspondent, while working on his new piece, traveled to Yekaterinburg and Nizhny Tagil (where the production facilities of the Uralvagonzavod defense firm are located). PR specialist Yaroslav Shirshikov of Yekaterinburg said Gershkovych had come to the city to write an article about the attitude of local residents to Wagner Group and the war on Ukraine. Shirshikov accompanied the journalist to Yekaterinburg and introduced him a number of contacts, with whom the reporter needed to talk for his article.
Evan Gershkovich has been living in Russia for nearly six years, working for the Moscow bureau of The Wall Street Journal. The journalist is accredited by the Russian foreign ministry. Gershkovich previously worked for Agence France-Presse, The Moscow Times, and The New York Times. His latest article was published by The Wall Street Journal on March 28.
Photo: The Wall Street Journal