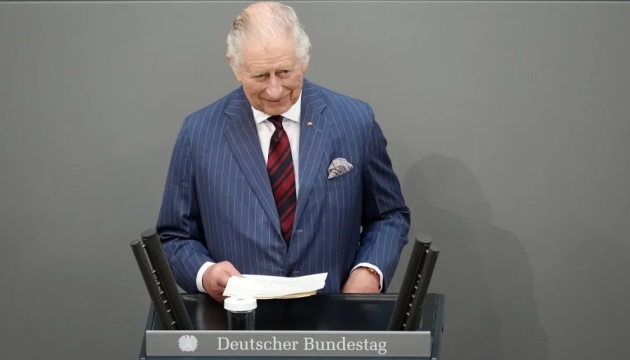 Charles III at Bundestag: Russia's war against Ukraine threatens security of Europe
King Charles III has stated that the war launched by Russia against Ukraine trampled on freedom and threatened the security of Europe.
"The unprovoked invasion of Ukraine has inflicted the most unimaginable suffering on so many innocent people. Countless lives have been destroyed; freedom and human dignity have been trampled in the most brutal way. The security of Europe has been threatened, as have our democratic values," King Charles III said at the Bundestag, an Ukrinform correspondent reports.
However, according to him, the world did not stand aside. "Even as we abhor the appalling scenes of destruction, we can take heart from our unity — in defense of Ukraine, of peace and freedom," the King said.
Charles III also highly appreciated the aid provided by Germany to Ukraine, including security assistance.
"Germany's decision to send such significant military support to Ukraine is remarkably courageous, important, and appreciated," said the monarch, who delivered almost the entire speech in German.
He noted that Germany and Great Britain assumed an important role as leaders in helping Ukraine in Europe, became the largest "donors", reacted decisively to the aggression of the Russian Federation and "made decisions that were previously impossible to imagine."
Britain's monarch also urged to learn lessons from the past and not to repeat mistakes.
King Charles III became the first monarch to address the German Bundestag.
King Charles and Queen Consort Camilla arrived in Germany on March 29.
Today, March 30, King Charles III visited the Ukrainian refugees in Berlin.
Photo: Kay Nietfeld/dpa