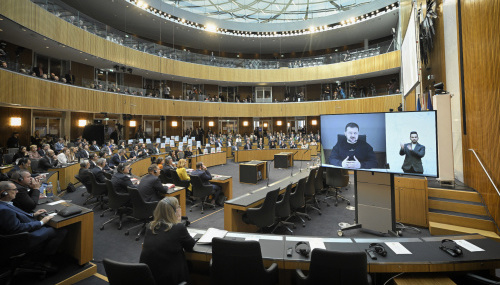 Ukraine's area contaminated by landmines is like two territories of Austria – Zelensky addresses National Council
Ukraine's total area contaminated by Russian landmines is 174,000 square kilometers, which is twice the area of Austria.
President of Ukraine Volodymyr Zelensky said this in his address to the National Council of Austria via video conference on Thursday, an Ukrinform correspondent reports.
"One hundred and seventy-four thousand square kilometers of the territory of Ukraine are contaminated by landmines laid by the occupier and Russian shells of various types that have not exploded. This contaminated area is like two territories of Austria. These are hundreds of thousands of anti-personnel and anti-tank mines, MLRS rockets, aerial bombs, mortar shells, which, without exploding, got stuck in the fields," Zelensky said.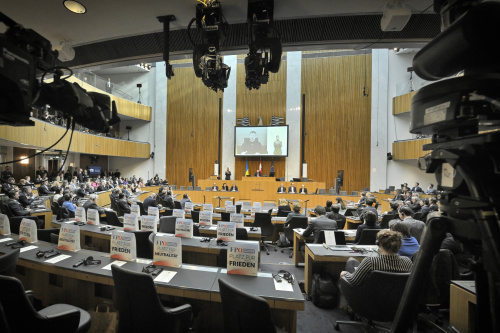 He added that the Russian invaders left thousands of explosives and grenades hidden in the buildings, gardens, parks and yards of ordinary residents, which take the lives of Ukrainians in the liberated territories almost every day. The President of Ukraine spoke about the cases when the invaders deliberately left explosive devices in musical instruments, household appliances and various things before leaving Ukrainian settlements, and emphasized the importance of helping Ukraine in demining territories.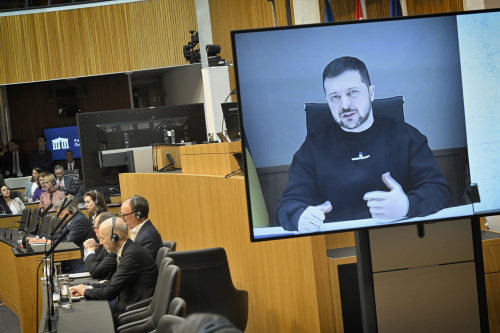 During the address by the Ukrainian leader, Federal President of Austria Alexander Van der Bellen, members of the federal government, and Ambassador of Ukraine to Austria Vasyl Khymynets were present in the hall of the Austrian parliament.
As reported by Ukrinform, Austria became one of the last EU member states whose parliament heard the address by the Ukrainian leader. Currently, out of 27 countries of the European Union, only Bulgaria and Hungary have not yet provided the Ukrainian president with such an opportunity.
Photo: Parlamentsdirektion/Johannes Zinner