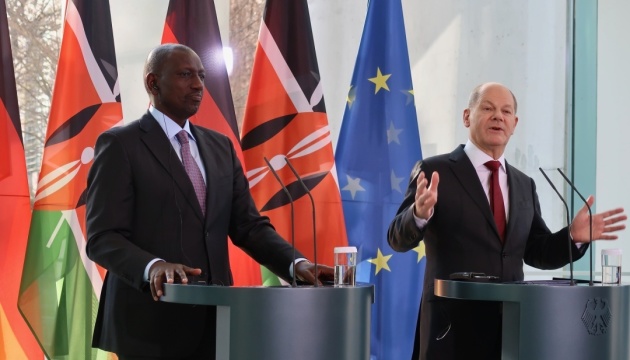 Kenya president: Russia's unjustified war on Ukraine must be stopped
The Russian Federation's war against Ukraine must be stopped, and the positions of individual African countries on the issue should not be equated with that of the whole of Africa.
That's according to Kenya's President William Ruto, who spoke in Berlin at a joint press conference following a meeting with Chancellor of Germany Olaf Scholz on Tuesday, an Ukrinform correspondent reports.
"The war in Europe must end, the aggression against Ukraine is not justified by anything," Ruto said. At the same time, he noted that the positions of individual countries in Africa should never be equated with the position of the whole continent.
According to Ruto, a threat to peace anywhere in the world is a threat to global peace, too.
He noted that the position of his state is based on what citizens believe in: respect for the UN Charter, the sovereignty and territorial integrity of all countries, and global rules-based society.
Olaf Scholz, in turn, thanked Kenya for their stance on Russia's war of aggression against Ukraine.
"This is a very clear, very brave position, it is important for global security," said German chancellor.
It should be noted that Kenya last November (when it was a non-permanent member of the UN Security Council) became one of the four African nations that supported the resolution calling on Russia to pay reparations to Ukraine.
In mid-January this year, William Ruto had a phone call with Ukrainian President Volodymyr Zelensky.