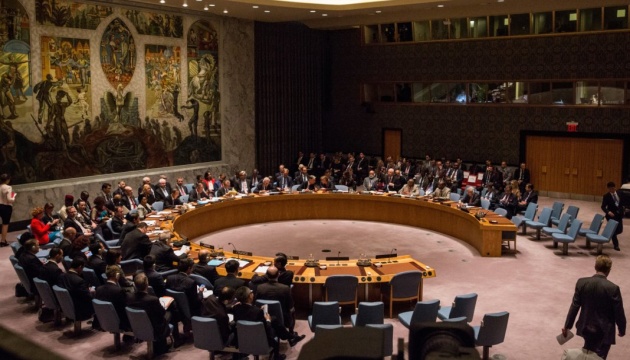 UNSC on Friday to discuss Putin's statement on deploying nukes in Belarus
The UN Security Council will hold a meeting on Friday, March 31, to discuss Russian President Vladimir Putin's decision to deploy tactical nuclear weapons on the territory of Belarus.
An Ukrinform correspondent was informed about this at the Council's secretariat.
In the UNSC agenda, this item is formulated as a "threat to international peace and security."
The meeting will kick off at 10:00 EST (17:00 Kyiv time).
The Ukrainian delegation is expected to participate.
Friday is the last day of March, the month when Mozambique chairs the Security Council. From April 1, the presidency passes to Russia, which holds in the UNSC the spot formerly belonging to the USSR.
Earlier, Ukrinform reported that the UN Security Council will meet this week to discuss threats voiced by the President of the Russian Federation, who is wanted by the International Criminal Court on war crime charges.
He stated that Russia would be deploying tactical nuclear weapons in Belarus.
The Ministry of Foreign Affairs of Ukraine issued a statement in this regard, emphasizing Kyiv's demand that an extraordinary meeting of the UN Security Council be immediately convened to counter the Kremlin's "nuclear blackmail."