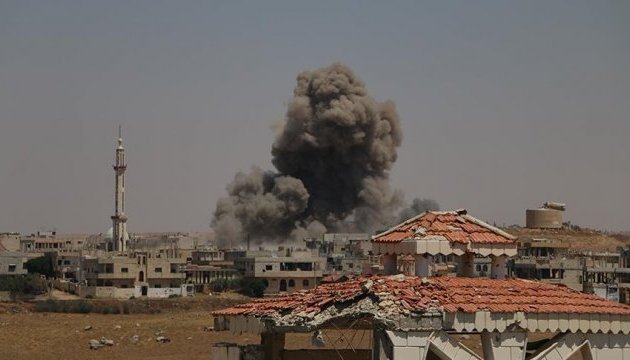 Impunity for crimes in Syria reason behind Kremlin's current aggressiveness - Zelensky
The lack of proper accountability for crimes committed in Syria has led to a sense of impunity in the Kremlin, which is largely a reason behind their current aggressiveness.
That's according to President Volodymyr Zelensky of Ukraine, who spoke in a video address to the nation on Saturday, an Ukrinform correspondent reports.
"The people of Syria received no adequate international protection, and this gave the Kremlin and its accomplices a sense of impunity. Russian bombs were destroying Syrian cities in the same way as they are our Ukrainian cities. It is in this impunity that a significant part of the Kremlin's current aggressiveness lies," the head of state said.
According to the president, when the Ukrainian people defend themselves and the force of the UN Charter, the force of justice, will be restored on our land, this will guarantee peace for many other parts of the world. "This is what our global coalition, the anti-war coalition, is working for," the President emphasized.
He also noted that new NSDC sanctions have been introduced against more than 400 individuals and entities, most of them Russian. They are also Iranian and Syrian individuals on the list.
According to Zelensky, each such step toward more sanctions is carefully worked out.
"Ukrainian sanctions are part of global pressure on Russia. All those who produce weapons for terror against Ukraine, who help Russia incite aggression, in particular by supplying Shaheds, who support Russia in destroying international law, can only remain on the world's fringe. In the end, they will be held accountable for everything they do against our people, against people in general, and against international law," the president emphasized.
As reported, Volodymyr Zelensky implemented the decision of the National Security and Defense Council of Ukraine on the application and introduction of changes to personal special economic and other restrictive measures (sanctions).
Sanctions have been applied to 300 individuals, including Syrian President Bashar Hafez al-Assad and Syrian Prime Minister Hussein Arnous, as well as 141 entities, including Fars Air Qeshm, Shahed Aviation Industries Company, and others.