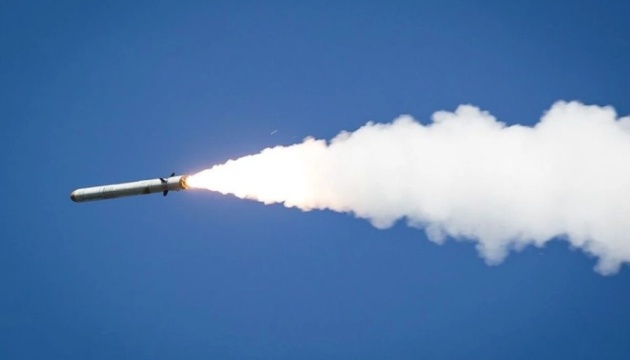 Russia doesn't give up missile terror while increasing intervals between strikes - intel
The Russians continue to employ missile terror as a tool of intimidation, but the interval between attacks has increased to nearly three weeks.
This was reported by Ukraine's defense intelligence official Andriy Yusov, who spoke on the air of the national telethon, an Ukrinform correspondent reports.
"The Ruscists do not give up missile terror, but we can see that since it started, this missile Blitzkrieg has failed, as well as the idea to capture Kyiv in three days, and many other idiotic plans designed in the Kremlin. But nevertheless, this tool of intimidation is still being used. We are observing an increase in intervals," said Yusov.
According to the official, "at the first stage, we saw weekly massive missile strikes but now the interval can be three to four weeks."
"And the use of Shahed drones is already different in terms of both numbers and intervals. High-precision missiles have become really scarce, if we are talking about Kalibrs, Iskanders, and Kinzhals these aren't the weapons that the enemy can afford to often bombard Ukraine with, "said Yusov.
At the same time, he noted that Russia still has a lot of outdated missiles in stock, "especially when it comes to the S-300s. This implies a higher level of threat to the frontline territories."
"Unfortunately, we still see these destructions in Zaporizhia and other Ukrainian cities. But in general, this missile terror tactic has already been defeated. Ukraine survived, Ukraine went through the winter, and its power system prevailed. And today, they will no longer be able to fundamentally influence the Ukrainian economy and logistics, although the enemy keeps trying," noted the intelligence spox.
As reported, at around 21:00 on March 17, 2023, Russian invaders attacked Ukraine with Iranian-made Shahed-136/131 kamikaze drones.