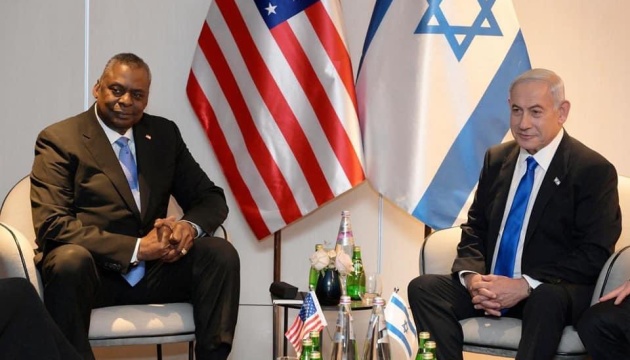 U.S., Israel discuss consequences of Russia-Iran military cooperation
U.S. Secretary of Defense Lloyd Austin during a meeting with Israeli Prime Minister Benjamin Netanyahu held in Tel-Aviv on Thursday spoke of the consequences of military cooperation between Russia and Iran.
That's according to an Ukrinform correspondent, referring to the Pentagon press service.
During the meeting, Secretary Austin highlighted "the lethal consequences of Russia's expanding military cooperation with Iran in Ukraine, where the use of lethal attack drones is killing innocent civilians and the negative implications this trend poses for the Middle East region."
Among other things, this is about Russia providing technology to Iran in exchange for its assistance.
The two leaders discussed the threats posed by Iran in the region and agreed to increase cooperation to confront Iranian aggression.
"Secretary Austin reaffirmed the U.S. commitment to never allow Iran to acquire a nuclear weapon," the report reads.
As Ukrinform reported earlier, the U.S. sanctioned a network of five Chinese companies supplying components for Iran's military drones Russia has been using to attack Ukraine.