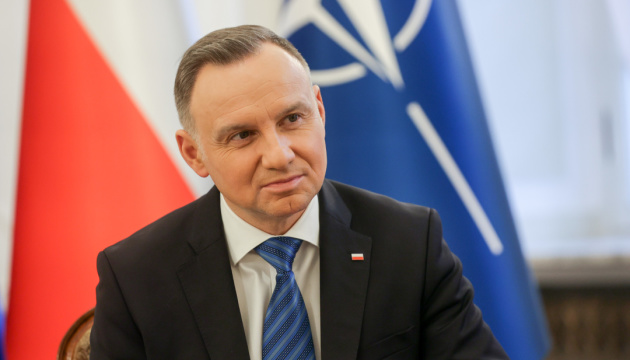 Duda speaks of UAE's "specific role" in supporting Ukraine
The United Arab Emirates (UAE) plays a specific role in supporting Ukraine, in particular, in the context of the exchange of prisoners of war.
That's according to Poland's President Andrzej Duda, who spoke at a Tuesday briefing in Abu Dhabi after a meeting with UAE President Muhammad bin Zayed Al Nahyan, an Ukrinform correspondent reports.
As Duda noted, during the meeting he thanked the UAE leader for the assistance that this country has been providing to Ukraine. In this context, he noted that the UAE allocated $100 million for power generators for Ukraine.
This country supports Ukraine politically, while trying to maintain a "balanced distance," he added.
"They are doing a lot as a country that has remained in friendly relations with both Russia and Ukraine, to find peaceful solutions that allow for negotiating POW swaps. Therefore, they're been playing such a specific role," Duda stated.
In the context of supporting Ukraine, Poland's president also called it important that the UAE is a non-permanent member of the UN Security Council in 2022-2023.
Photo: KPRP