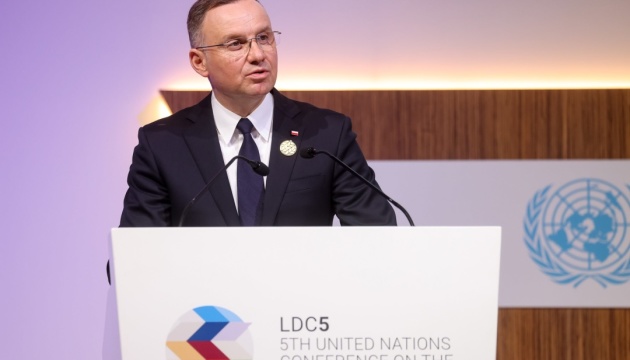 Duda exposes before African leaders Russia's real motive behind war on Ukraine
Poland's President Andrzej Duda told Prime Ministers Eduard Ngirente of Rwanda and Adrian Maleyani of Mozambique that Russia is pursuing an imperial, neo-colonial policy, trying through armed aggression to conquer the Ukrainian people and seize their natural resources and potential.
Duda addressed the issue on Monday, speaking at a briefing within the framework of the 5th UN Conference on Least Developed Countries, which is being held in Qatar, an Ukrinform correspondent reports.
As Duda noted, he held meetings with the prime ministers of Rwanda and Mozambique. Rwanda, he said, is Poland's important economic partner, while Mozambique will for the next two years be a non-permanent member of the UN Security Council and is now temporarily presiding over the body.
According to the president, one of the topics was Russia's aggression against Ukraine. He noted that he spoke with the leaders of African countries as a neighbor (of Ukraine - ed.) and as someone "who from the very beginning of Russia's aggression, as well as before, has witnessed what is happening and knows the truth about Russia's aggression in Ukraine."
Duda told the prime ministers that this is completely unprovoked aggression, and that the Russian propaganda, which is so massive in Africa and in the UN, is false.
"The information spread by Russian formal or informal sources and that spread by the Russian media has nothing to do with the truth, and this is actually Russian imperialism revealing its face. This is Russian imperialism, which is a kind of neo-colonialism, it is the will to subjugate the Ukrainian people and Ukraine, to take over its enormous natural wealth and the potential of Ukrainian society and Ukraine because it is about trying to take over this potential. This is the main motive behind Russia's actions," Duda emphasized.
The president added that he convinced the leaders of the two African countries that Russian imperialism must be stopped, as it has no place in the 21st century.
"In this context, it was a very powerful conversation," Duda stated.
The president also emphasized that he discussed countering Russian disinformation in this part of the world with representatives of the Arab world in Qatar. He noted that the influence of Russian propaganda on the Arabian Peninsula remains significant. Therefore, it is necessary to tell the truth about Russian aggression in Ukraine.
As Ukrinform reported earlier, President Volodymyr Zelensky of Ukraine discussed with the Egypt leader, Abdel Fattah al-Sisi, the issue of food security and the opening of Ukraine's food hubs in Africa.