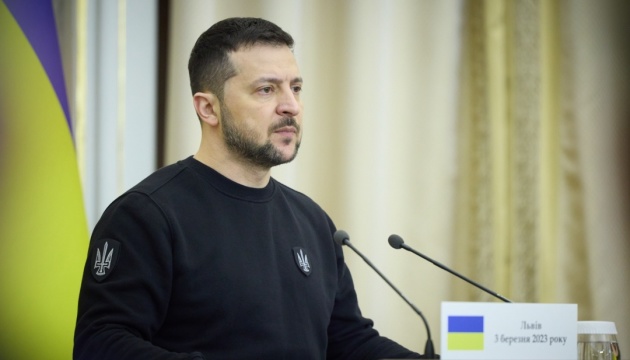 Zelensky meets with Dutch, Estonian foreign ministers
In Lviv, President of Ukraine Volodymyr Zelensky met with Deputy Prime Minister and Minister of Foreign Affairs of the Netherlands Wopke Hoekstra and Minister of Foreign Affairs of Estonia Urmas Reinsalu.
This was reported by the president's press service, according to Ukrinform.
"The Head of State expressed gratitude for the significant defense, financial, energy and legal support provided by the Netherlands and Estonia to Ukraine since the beginning of the full-scale invasion of Russia," the report says.
Volodymyr Zelensky briefed the Dutch Foreign Minister about the situation on the frontline and the needs of the Ukrainian defense forces, emphasizing the importance of prompt decision-making by the partners.
The interlocutors noted the commonality of approaches between Ukraine and the Netherlands that the establishment of sustainable and just peace in Ukraine is impossible without bringing to justice all those responsible for the crime of aggression.
Zelensky expressed gratitude for the decision of the Dutch government to establish the International Center for the Investigation of the Crime of Aggression against Ukraine in The Hague.
"This is an important step towards establishing a Special Tribunal for the crime of Russian aggression," he said.
Zelensky also praised the recent decision of the Dutch government to locate the office of the International Register of Damage in The Hague.
"We consider this register as an integral part of the compensation mechanism proposed by Ukraine," the President said.
The interlocutors exchanged views on the implementation of Ukraine's initiative on the Peace Formula and the preparation of a global summit on its implementation.
The meeting also focused on current issues of Ukraine's European and Euro-Atlantic integration.
Zelensky outlined Ukraine's expectations from the NATO Summit in Vilnius and the launch of negotiations on Ukraine's accession to the EU by the end of this year.
In addition, the Ukrainian president thanked Estonia for its leadership in providing comprehensive assistance, for its effective and timely support for Ukraine in protecting its territorial integrity and independence.
He noted Estonia's substantial defense and humanitarian assistance.
"Ukraine especially appreciates the medical and rehabilitation assistance to our wounded, the training missions for the Ukrainian military, as well as the support for Ukrainians who left for Estonia because of the war," the Head of State said.
The parties emphasized the importance of further increasing sanctions pressure on Russia.
As reported, Ukrainian President Volodymyr Zelensky is on a working visit to Lviv, where met with President of the Republic of Latvia Egils Levits.