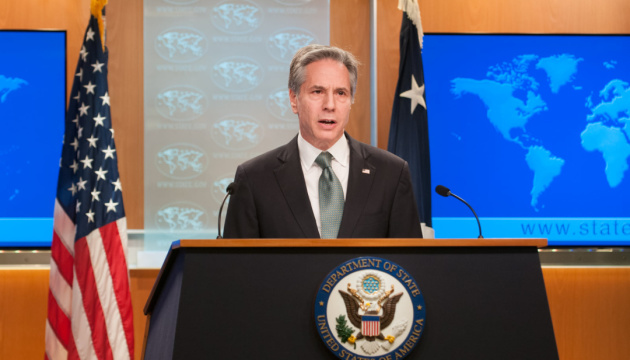 Blinken reveals details of short encounter with Lavrov on G20 margins
U.S. Secretary of State Antony Blinken, during a short meeting with Russian Minister Sergey Lavrov on the sidelines of the G20 foreign ministerial, discussed the issue of nuclear non-proliferation and release of illegally detained former U.S. Marine Paul Whelan, and also called on Russia to immediately end the war on Ukraine.
The head of the State Department said this on Thursday at his final press conference in New Delhi, Ukrinform's own correspondent reports.
"I urged Russia to reverse its irresponsible decision and return to implementing the New START Treaty, which places verifiable limits on the nuclear arsenals of the United States and the Russian Federation," the head of American diplomacy noted.
He emphasized that this is in the interests of both countries, as well as people around the world. And this happened even in the case of the USSR at the height of the Cold War.
"I also raised the wrongful detention of Paul Whelan as I have on many previous occasions. The United States has put forward a serious proposal. Moscow should accept it," said the head of the US State Department.
According to the top diplomat, the American side is determined to bring home Paul Whelan and all other American citizens who are unjustly detained around the world.
In addition, Blinken emphasized that during the meeting with Lavrov, he stressed to him that Russia should end its war of aggression and switch to "meaningful diplomacy that can produce a just and durable peace."
"President Zelensky has put forward a 10-point plan for adjusting durable peace. The United States stand ready to support Ukraine through diplomacy to end the war on this basis," the U.S. Secretary of State recalled.
He emphasized that Russian President Vladimir Putin, however, has shown no interest in cooperation, saying that there is nothing to even talk about unless Ukraine accepts "new territorial realities." At the same time, Putin has "doubled down on his brutalization of in Ukraine," the U.S. Secretary of State added.
"Independent of what Russia does, we showed here in Delhi what we will do: deliver results on the problems most affecting our people's lives," the head of the U.S. Department of State emphasized.
As Ukrinform reported earlier, Antony Blinken met with Minister Lavrov on Thursday, for the first time after the Russian invasion of Ukraine, on the sidelines of the G20 meeting in New Delhi. As noted, Blinken's conversation with Lavrov lasted about 10 minutes and was unscheduled.