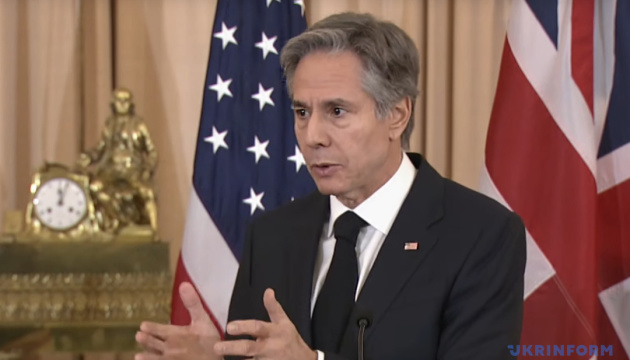 Blinken: Russia, China block G20 statement
China sided with Russia in the G20 format, blocking the adoption of a joint statement condemning Russia's war on Ukraine and calling to respect the UN Charter and international norms.
U.S. Secretary of State Antony Blinken said this on Thursday during a press conference in New Delhi following the meeting of G20 foreign ministers, Ukrinform's own correspondent reports.
"The Chair statement by India today reaffirmed the declaration issued by the G 20 leaders last year in Bali, which and I quote 'strongly condemned the war in Ukraine and stress it is causing immense human suffering and exacerbating existing facilities in the global economy,'" noted the head of the U.S. Department of State.
He emphasized that "Russia and China were the only two countries that made clear that they "would not sign on to that text."
According to the top diplomat, the 18 other members of the G20 confirmed that it is "essential to uphold international law in the multilateral system. This includes defending all the purposes and principles enshrined in the Charter of the United Nations and adhering to international humanitarian law."
In this regard, the U.S. Secretary of State emphasized that every member of the G20 and practically every country continues to suffer from Russia's war of aggression, "a war that President Putin could end tomorrow if he chose to do so." Blinken emphasized that the United States did not want this war and worked hard to prevent it.
"Like most countries, we want to focus on the fundamental challenges affecting the daily lives of our people. So even as we stand with Ukraine, while it defends itself, as any nation would do in that position, we're also determined to keep working with other countries to deliver solutions to the shared challenges," said the head of American diplomacy.
In this context, he drew attention to the need to respond to the "unprecedented food security crisis" around the world.
"Today, Russia is again slow walking the export of food from Ukraine and the Black Sea Initiative is set to expire on March 18. Russia has refused to commit to renewing it. The message that countries set at today's meeting is clear. Extend the Black Sea Grant Initiative and strengthen it, and do that without delay," the U.S. Secretary of State emphasized.
As Ukrinform reported earlier, India's top diplomat said the G20 foreign ministers failed to agree on the final communiqué regarding the points concerning Ukraine. He also announced that the ministers would instead publish a final document, rather than an official joint statement.