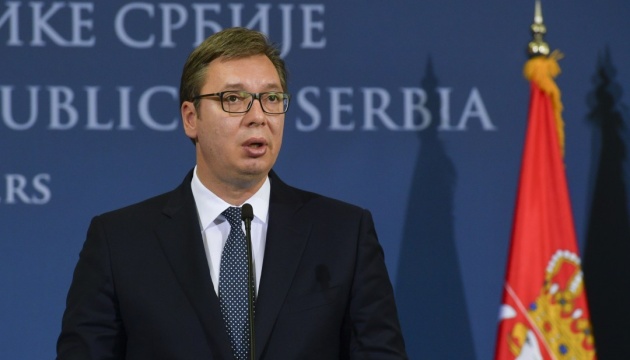 Serbs recruited for Russia's war on Ukraine to be arrested upon return - Vučić
Serbian President Aleksandar Vučić says his country's nationals recruited by Russia for the war against Ukraine will be apprehended once they return to their homeland.
The leader said this in an interview with Politico, Ukrinform reports.
Serbs who were recruited to fight in Ukraine "are going to be arrested when they come back to Serbia and [are] within reach of our institutions," Vučić emphasized.
He added, referring to Russia, that "you cannot recruit like that in a friendly country."
The publication notes that on the eve of the Munich Security Conference, which took place on February 17-19, hundreds of Serbian nationalists and pro-Russia activists affiliated with the notorious Wagner Group rallied in Belgrade, demanding an end to negotiations with Kosovo. Protesters carrying banners "Kosovo is the heart of Serbia" and "Betrtayal of Kosovo is betrayal of Russia!" also made death threats against Vučić.
The organizer of the riots, far-right leader Damjan Knezevic who publicly supports the Wagner Group, was arrested on charges of inciting violence.
Vučić also accused the protesters of spreading anti-Serbian sentiments and said that they were likely financed by Russia.
"I don't need Wagner's support; I don't need them applauding or criticizing me," Vučić told Politico, visibly irritated.
As Ukrinform reported earlier, the Serbian president had repeatedly stated that Russia should stop trying to recruit Serbs for military operations on Ukrainian soil as part of Wagner.
Vučić, who traditionally maintained friendly relations with Moscow, also rejected the Russian president's territorial claims to Ukraine.