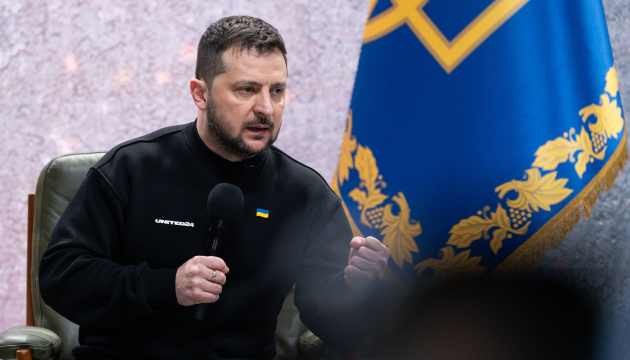 Zelensky on Crimea's recapture: We are preparing for this
The Ukrainian leadership is preparing to bring Crimea back, and it is necessary to work towards this.
The relevant statement was made by Ukrainian President Volodymyr Zelensky during the press conference 'February. The Year of Invincibility', answering the question about the possibility of recapturing Crimea as soon as this year, an Ukrinform correspondent reports.
"Answering [the question about – Ed.] the deadlines and steps, I can tell you only one thing: everything depends on us. It depends on all of us. There are military steps, and we are preparing for them. We are ready mentally. We are preparing technically: with weapons, reinforcements, the formation of brigades, in particular the assault brigades, of different categories and nature," Zelensky said.
In his words, Ukraine is sending people for training, not only within the country but on the platforms of foreign states, because the weapons provided are of a different model.
"We have to be ready. Then, there will be corresponding fair de-occupation steps and, God willing, they will be successful," the President of Ukraine added.
According to Zelensky, each person in Ukraine really wants every next step in this war to be decisive, final and victorious.
"All of us [want - Ed.] to bring all territories back. We want to win so much, because we deserve it. We really want the war to end. We want peace so much. We want to bring everything back, [including – Ed.] people. We want the military to be alive and return home. But, this is not enough – these emotions... It is necessary to work," the Head of State noted.