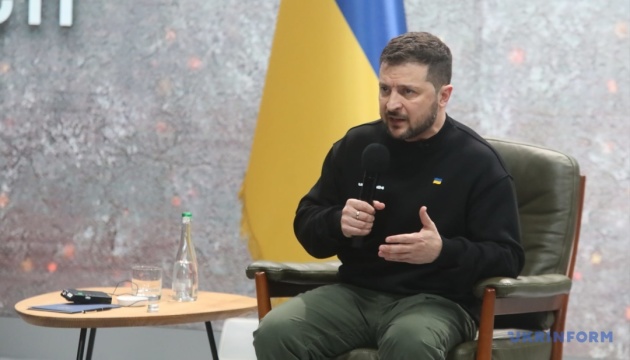 President Zelensky: There will be victory, but we must unite forces for this
Ukraine and its allies should unite forces in order to bring victory closer in the war unleashed by Russia.
The relevant statement was made by Ukrainian President Volodymyr Zelensky during the press conference 'February. The Year of Invincibility', an Ukrinform correspondent reports.
"I believe if each of us – partners, and we, inside the state, – will remain a strong fist, and if our partners, united for the sake of our victory, keep all their words and deadlines, if we all do our homework, fulfill our task, victory will be awaiting us. I am sure that there will be victory. I really want us this year – we have motivation, confidence, friends, diplomacy for this – to unite all our forces against this invasion," Zelensky said.
In his words, during this war, there is a struggle of value dimensions.
"The truth is on our side. And children whom we love and feel very sorry when losing them at the front… Meanwhile, they [Russians – Ed.] are abandoning theirs and not counting deaths. It is their choice," Zelensky noted.
According to the Head of State, Ukraine is not alone in resisting the Russian invasion, because this is a war for common values and to prevent Russian aggression from going any further.