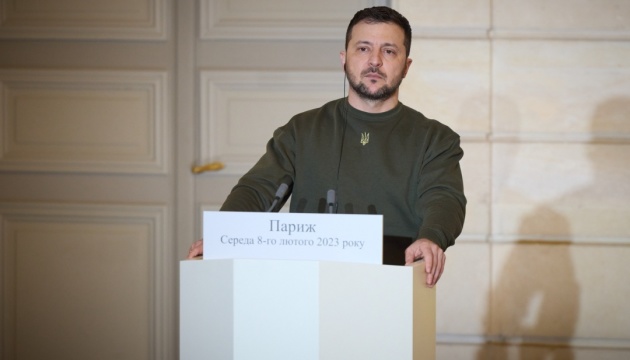 Zelensky calls on Scholz, Macron to provide fighter jets to Ukraine
At a meeting with Chancellor of Germany Olaf Scholz and President of the French Republic Emmanuel Macron, Ukrainian President Volodymyr Zelensky reiterated Ukraine's demand for heavy weapons and combat aircraft.
The relevant statement was made by Bild, an Ukrinform correspondent reports.
"France and Germany have the potential to turn the tide, and that's how I see our talks today. The sooner we get long-range heavy weapons and our pilots get modern planes... the sooner Russian aggression will end," Zelensky said at a late dinner meeting with Scholz and Macron in Paris on Wednesday.
Macron reiterated that Russia must not win this war and that both Paris and Berlin will provide military support to Ukraine for as long as necessary.
Meanwhile, Scholz noted that Ukraine belongs to the European family, and the EU summit will send a strong signal of solidarity with Kyiv. He also promised to provide military, humanitarian and financial aid to Ukraine for as long as necessary.
A reminder that three leaders will meet again at a EU summit in Brussels today.
Photo: Office of the President of Ukraine
mk