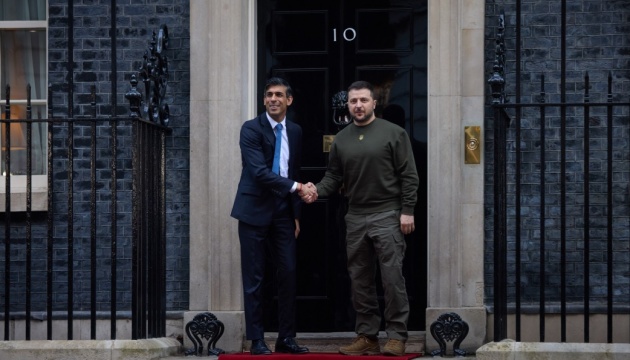 Zelensky, Sunak discuss peace formula, weapons, Olympics without Russia
Ukrainian President Volodymyr Zelensky and British Prime Minister Rishi Sunak have discussed defense support, the rebuilding of Ukraine, a peace formula, as well as preventing Russian and Belarusian athletes from participating in the Olympic Games.
The leaders met in London on Wednesday, February 8, Ukrinform reports, citing the press service of the head of state
"During the meeting, Volodymyr Zelensky and Rishi Sunak discussed defense cooperation and the entire range of issues on the bilateral agenda: the implementation of the Peace Formula, Ukraine's Euro-Atlantic integration, future support from the United Kingdom, the possibility of involving the British side in the post-war reconstruction of our country, as well as a number of other promising projects," the report reads.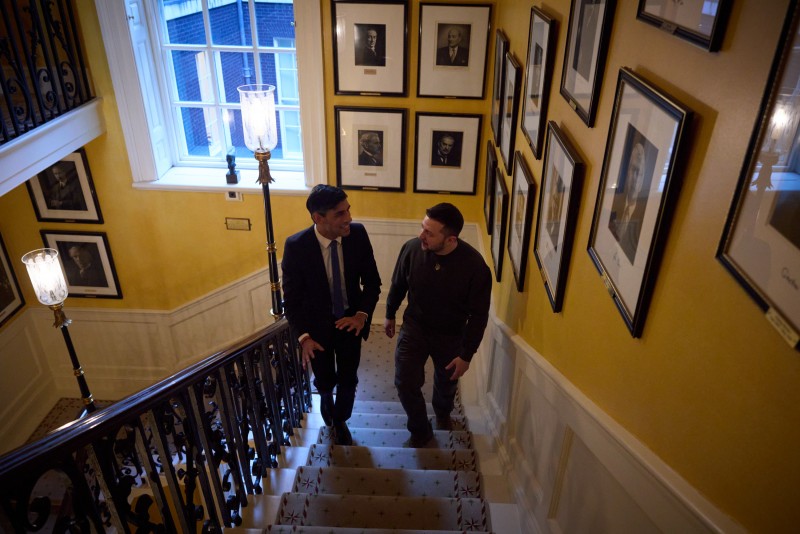 The issue of not allowing Russian and Belarusian athletes to participate in the 2024 Olympic Games in Paris was discussed separately.
Zelensky informed Sunak about the situation on the front lines and the key needs of the Armed Forces of Ukraine in terms of weapons and military equipment. He emphasized the importance for Ukraine to receive the necessary weapons from allies to stop the Russian offensive and liberate all temporarily occupied Ukrainian territories.
Zelensky also thanked the British people and personally Sunak for providing comprehensive support to Ukraine in countering Russian aggression.
Zelensky said the United Kingdom is our reliable partner and friend that has become one of the world leaders in helping the Ukrainian state.
"I thank you for your efforts to strengthen Ukraine's defense capabilities, for the humanitarian and financial assistance provided after the beginning of full-scale aggression, for supporting Ukrainians who were forced to flee their homes because of the Russian war," he said.
Zelensky is visiting the UK on Wednesday.
This is Zelensky's first visit to the UK and his second foreign trip since Russia launched a full-scale invasion of Ukraine in February last year. In December 2022, the Ukrainian leader visited the United States.
Photo: Office of the President of Ukraine